More stringent specifications are resulting in an increase in the demand for burr-free and immaculate cleanliness of various components, such as hydraulic and pneumatic systems, engines (blocks, heads, camshafts and crankshafts), pump and valve housings, nozzles for fuel injection and other applications, transmission parts (housings, gears, timing), steering and brake parts as well as other mechatronic components.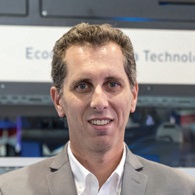 This increase is driven by the constant evolution of the automotive market, more recently with focus on the new wave of electric and autonomous vehicles as well as more demanding environmental regulations. One of the leaders in the design and supply of deburring and cleaning equipment is the SBS Ecoclean Group, which develops and markets products, systems and service solutions for industrial cleaning and deburring applications as well as water-based surface treatment. The company's technologies and services address needs from the automotive industry and their Tier 1, 2 and 3 suppliers.
Automotive Industries (AI) asked Sandro Siminovich, Sales Director at Ecoclean, what are some of the company's recent innovations.
Siminovich: Over the past twelve months we introduced two new machines to the market and developed a number of tools to enhance our product portfolio. The EcoCvelox is a gamechanger due to the fact that it is a compact, modular CNC solution for deburring, cleaning, and drying combined in one system. The EcoCvelox is flexible in that it allows modules to be added or removed as the manufacturing process changes. It offers short cycle times of 15 seconds per pallet (holding one or multiple parts) and an optimal ratio of process time to machine cycle time. It can accommodate a wide variety of part types and has a unique part handling system that allows for easy implementation of new parts. The system can accommodate automatic loading by gantry or robot, or manual loading. Loading can be done at opposite ends of the machine.
The newest solution about to come to market in the area of precision parts cleaning is the UCMSmartline, which is a modular and versatile ultrasonic cleaning machine for high-precision parts. Among Ecoclean's tools for surface processing is the EcoCbooster. It uses a pulsating water jet with pressures between 300-900 bars that applies shock pulses to the part surface, resulting in a multiplication of kinetic energy. Applications include surface roughening, activation, decoating, de-coring, rust removal and paint stripping across a wide range of industries, including automotive.
There are several advantages related to the use of pulsating water jet technology. It can replace the need for special tooling and reduce operation cost using recirculated process water. The EcoCbooster can also offer energy savings compared to conventional high-pressure water jetting methods and is suitable for a wide variety of materials. In addition, general part cleaning is integrated into the process. We have also developed exciting technologies for cleaning and surface processing using laser, plasma and air. These technologies are excellent for preparing surfaces and cleaning parts when water cannot be used, as with 3D printing and other additive manufacturing.
How flexible is the range compared to similar cleaning machines?
Siminovich: All of our machines are designed with the consideration of different requirements. Flexibility is one of these features. The EcoCvelox and the UCMSmartline are modular systems that can be modified fairly easy. For example, if the customer needs to increase production throughput, we can add one or more modules and duplicate the processes inside the machine. Or if new part needs to be introduced, we can simply change a pallet or part carrier and adjust the program to address areas that need to be cleaned. Costs associated with these changes are low and they can be accomplished in a fraction of the time needed to build a complete a new machine.
AI: Similarly, how customizable are Ecoclean's other machines – such as the EcoCagile?
Siminovich: Our EcoCagile robotic machine can also be adapted to new demands with minimal interventions. Some changes may be needed for the robot gripper to handle new parts, new tools and the re-programming of the robot path. The machine is built with space protection for potential processes changes, for example the addition of a high-pressure pump and tools for deburring. Finally, when talking about our chamber washers like the EcoCcore, they are as flexible as it gets. As long as the new parts fit in the work chamber envelope, all that is needed is a one-minute program change performed by the machine operator and the machine is ready to go.
AI: What are the benefits to OEMs of the customizability of the machines?
Siminovich: When designing a machine, we look at current customer needs in terms of quality (cleanliness) and production throughput. We understand that these needs will change with time, because new standards will push for more stringent quality requirements and market fluctuations will lead to increase or decrease in production levels. In a traditional approach, OEMs required a built-in protection for such variations when purchasing machines and this protection comes with a (normally high) price tag. Being able to add or remove modules with minimum time and low cost helps OEMs scale down their initial investment and still have the peace of mind that the machine will be able to be adaptable to future demands.
AI: What makes the EcoCcore so popular?
Siminovich: The EcoCcore processes parts in batches, be it in bulk or in special designed frames to hold parts in position. Being able to fit all different sizes of parts in the same chamber makes it one of the most flexible machines available in the market. Once inside the work chamber, the part can be rotated or oscillated to help achieving cleanliness results. The machine also has other features that are an attraction to users, like the flexibility to use different cleaning media, its small footprint and the eye-catching design with glass panels that make it the center of attraction in a manufacturing plant.
AI: Please tell us about Ecoclean's substrate cleaning machines.
Siminovich: UCM is the industry leader in the high precision cleaning market. Machines are designed with features that will accommodate all different cleanliness requirements for a wide range of components. Our Centers of Competency our Centers of Competence in Germany and our R&D team in Switzerland are constantly working to design new features and processes that will eventually be the benchmark for cleaning applications in different industries like cutting tool inserts, medical, optical and semi-conductor.
AI: What is the biggest challenge facing industrial cleaning technologies today?
Siminovich: If this question was posed to me last month, I would say that our industry has faced many challenges in the past years and in one way or another adapted to new realities. For the past 15 years, new environmental regulations were the main factors that led to changes in machine technology. In the automotive industry specifically, new regulations led to the search for alternative propulsion methods and in the last two years to the path of electrification and autonomous vehicles. The components used in traditional internal combustion engines and their equivalent in electric vehicles require completely different cleaning processes and companies have to reinvent themselves to deliver relevant solutions. But to answer this same question today, amid the Covid-19 crisis, flexibility of manufacturing processes has become more important than anything, as we have witnessed a large number of manufacturing facilities, large and small, changing their production lines to meet the high demand for ventilators. And for those that could not help in the battle against the virus, this same flexibility will give the resilience needed to survive the downturn of global economy