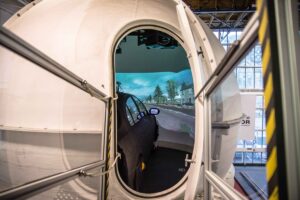 Photo credit XPI
As more companies combine their driving simulators with the power of traffic simulation, the quality and realism of testing continues to improve. Driving simulators are a cost-effective way to test human reactions to differing vehicle technology and road conditions – transport modeling plays an important role in making the virtual driving environment feel as real as possible.
Understanding how human drivers behave is vital to anyone involved in traffic technology – road designers, traffic managers and vehicle manufacturers all need to understand how humans use the roads.
Simulators allow specific conditions to be trialed over and over agin in a safe, controlled environment, away from the uncontrollable variables of the real world, but for accurate results, the simulators need to be as realistic as possible.
This is where transport modeling comes in to play. Aimsun is involved in a number of simulator solutions in the UK and abroad, providing real-world validated traffic simulation, which means that when someone is driving in a digital environment, the conditions that they encounter are based on what would happen if they really were out on the street.
Analysts often ask a person in a simulator to drive a set route, along which a number of hazards may present themselves. The test driver might be asked to drive the route multiple times with small changes to the conditions, thus testing how one person reacts; alternatively, a number of drivers from differing demographics might be asked to drive the same route under exactly the same conditions to observe a spread of different reactions.
In older simulators a participant would drive their simulated vehicle along roads where other cars would appear sporadically, but which had no relation to the real world.  Now simulator providers such as French firm AVSimulation, UK firm XPI Simulation Limited, and the ITS team at the University of Leeds can link with Aimsun traffic modeling software to provide realistic traffic within a representative virtual environment.
The simulators couple driving simulation with Aimsun Next's dynamic traffic simulation – not only are the vehicle flows realistic, but there is also accurate representation of public transport, cyclists and pedestrians along with traffic management tools such as traffic lights. This completeness allows a variety of uses, including testing ITS traffic management solutions, evaluation of human performance and behavior, testing vehicle-to-vehicle systems, Automotive Driver Assistance systems and GPS/traffic navigation equipment integration
Working with French firm AVSimulation, Aimsun delivers large-scale traffic simulations to the SCANeR™ Studio simulator engine; this collaboration produces realistic driving conditions combining to give the driver a fully immersive virtual experience. Therefore, for example, if a simulation were a twin of a city at morning rush hour, the heavy congestion encountered would mirror what you would expect to see on the real road.
Uniquely, the SCANeR simulator has a direct interface with Aimsun Next traffic simulation software, (Aimsun implemented and licenses the Driving Simulator Interface and AV Simulation implemented and license the plugin that works in SCANeR).
Testing autonomous vehicles in driving simulators
Unlike the direct interface between Aimsun Next traffic simulations and the SCANeR simulator, other companies are using Aimsun's External Agent Interface (EAI) to program their own link with Aimsun Next traffic simulations. These companies program a TCP/IP communication in the platform of the driving simulator, with the Aimsun External Agent Interface.  For every simulation step, Aimsun Next sends the position of the vehicles and the color of each traffic signal group and receives the position of the human-driven vehicle in the simulator.
The Innovate UK-supported OmniCAV project in the English county of Oxfordshire is an autonomous vehicle project that includes testing on real roads, a test track and in the virtual world. Using Ordnance Survey data, Aimsun simulated the 32-km real world traffic network around Oxfordshire for use in XPI's driving simulator to test how an Autonomous Vehicle (AV) would react within this environment. By linking to the AV vehicle control system, the simulator system can safety and repeatably test the AV under a wide variety of environmental and dynamic conditions. Further, during the OmniCAV project, the simulation system digital twin capability will be assessed by using real-world footage from an AV driving around the Oxfordshire route and comparing this to the same scenario run in the simulated environment
Also using the EAI to link driving simulators with Aimsun Next simulations is the Institute of Transport Studies, which has the University of Leeds Driving Simulator (UoLDS) on campus as part of the Virtuocity program; the UoLDS has already been used in UK connected and automated vehicle projects such as VeriCAV and HumanDrive.
As more and more operations combine their driving simulators with the power of traffic simulation, the quality and realism of the testing will continue to improve.