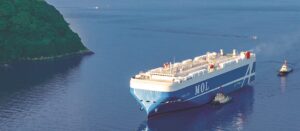 In 1965, Mitsui O.S.K. Lines, Ltd. (MOL) launched the first car carrier to meet the needs of Japan's burgeoning automobile export trade.
Since then, as a pioneer in automobile transport, we have offered continual improvements in the safety and reliability of our car carrier service with a group fleet of about 100 vessels, in step with the market's globalization. The capacity of the first pure car carrier (PCCs) was about 1,200 automobiles. Today's pure car and truck carriers accommodate all types of vehicles, from passenger cars to construction machinery.
Technological advances introduced since 1965 include designs that limit the effects of wind resistance and the introduction of solar power generation systems to reduce emissions. In 2006 MOL patented the design of a PCC which reduced wind resistance. The vessel's bow is aerodynamically rounded and beveled along the bow line to help reduce pressure from headwinds and the leeway caused by wind pressure.
As a result, the design improves fuel efficiency, which in turn reduces emissions of carbon dioxide (CO2), nitrogen oxide (NOx), and sulfur oxide (SOx). Vessels are also able to sail faster.
With a fleet of about 100 car carriers (under the MOL Auto Carrier Express or ACE brand), the MOL Group is today one of the largest car carrier operators in the world. The vessels transport automobiles, trucks, construction machinery and non-self-propelling cargo loaded on trailers to all ports in its global network. MOL has agency offices around the world to support its car carrier operations.
MOL Group Environmental Vision 2.1
In June 2021, MOL unveiled its "MOL Group Environmental Vision 2.1".
For the next generation, the MOL Group is working collaboratively with its partners and stakeholders to resolve environmental issues. MOL states: "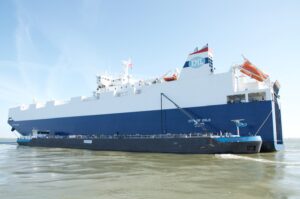 We will continue to provide solutions for issues of high importance such as the preservation of the marine environment, protection of biodiversity and prevention of air pollution, and in order to tackle climate change with utmost urgency, the MOL Group will make a concerted effort to achieve net zero GHG emissions by 2050. With these contributions for the sustainable development of our society and the preservation of nature, from the blue oceans, we sustain people's lives and ensure a prosperous future".
The group sets three medium- to long-term targets:
Deploy net zero emissions ocean-going vessels in the 2020s.
Reduce GHG emissions intensity by approximately 45% by 2035 (compared to 2019).
With the concerted effort throughout the Group, achieve net zero GHG emissions by 2050.
To achieve the goals, MOL will pursue five initiatives:
Adoption of Clean Alternative Fuels.
Enhancement of Energy-Saving Technologies.
Boost Operating Efficiency.
Building Business Models to Enable Net Zero GHG Emissions.
Expanding Low-Carbon and Decarbonization Projects through Use of the MOL Group's Concentrated Strengths.
Under the strategy "Adoption of Clean Alternative Fuels", MOL plans to launch about 90 liquefied natural gas (LNG)-fueled vessels by 2030.
MOL to Build Series of 4 LNG-fueled Car Carriers – progressing towards "90 LNG-fueled vessels by 2030"
MOL has commissioned the building of four 7,000-unit capacity car carriers using LNG as their main fuel. Compared with conventional marine fuel oil, LNG (liquefied natural gas) is expected to reduce emissions of CO2 by about 25-30%, SOx by 100%, and NOx by about 85%. The vessels are slated for delivery in succession starting in 2024.
Euro Marine Logistics Starts Sea Trials of Car Carrier Powered by Biofuel
MOL says it is accelerating its preparations for the launch of environment-friendly vessels using not only LNG fuel but also biofuels, which are reaching the practical application stage.
In June 2021 MOL's wholly owned subsidiary Euro Marine Logistics (EML) started sea trials of a car carrier, the City of Oslo owned by Gram Car Carrier, using biofuel.
According to the company statement, EML signed a deal for biofuel supply with GoodFuels, and about 370 tons of biofuel were bunkered on the vessel at the Dutch port of Flushing. The GoodFuels' biofuel can be used on vessels without changing engine specifications, which has the potential to become an environment-friendly alternative fuel.
Biofuel is also positioned as an effective alternative to fossil fuels in the "MOL Group Environmental Vision 2.1". MOL and EML continually take a proactive stance in promoting the Adoption of Clean Alternative Fuels such as biofuel with the aim of reducing greenhouse gas emissions in ocean transport.
GoodFuels generates ship fuel using raw materials that do not lead to deforestation and food supply issues. This can reduce carbon dioxide emissions by about 80-90% in the well-to-exhaust (from fuel generation to consumption) process.
Sailing towards net zero emissions
In the "MOL Group Environmental Vision 2.1", the group aims to deploy net zero emissions ocean-going vessels in the 2020s and expanding the number of its net zero emissions ocean-going vessels to about 110 by 2035.
For that goal, they are continuing to research the use of not only LNG or biofuels, but also next generation candidate fuels like ammonia for car carriers as well. It says it will make further efforts with the aim of becoming the company of choice for various stakeholders, by delivering a new value—zero-emission transport of cars.