Development of solid-state digital LiDAR will be accelerated through the acquisition of Sense Photonics by Ouster Automotive.
"Solid-state digital LiDAR is the holy grail of automotive autonomy, and we believe Ouster is the only LiDAR company prepared to bring it to the mass market," said Ouster CEO Angus Pacala at the announcement of the acquisition.
Sense Photonics and the Ouster automotive division have been combined to form Ouster Automotive, a new functional division of the Company focusing on driving mass-market adoption of digital LiDAR in consumer and commercial vehicles.
Under the terms of the agreement, Ouster acquired 100% of Sense and all its property for approximately 10 million shares of Ouster common stock, inclusive of 0.8 million shares underlying assumed options, after closing adjustments.
Sense CEO Shauna McIntyre joins the Company as the President of Ouster Automotive, bringing 25 years of experience serving automotive OEMs to the team. She is accompanied by nearly all of Sense's approximately 80 global employees who will continue to support the solid-state product roadmap and advance commercial negotiations with global automakers.
"We have both the talent and the technology to be a market leader across all of our industries for years to come," said Pacala.
Through the acquisition, Ouster says it expects to:
Accelerate Ouster's solid-state digital LiDAR product roadmap by more than 12 months
Deliver on a flagship development deal with a major global automotive OEM
Advance negotiations with automotive OEMs for five series production programs, collectively worth over $1 billion in potential revenue
Expand the breadth of its IP portfolio through the acquisition of Sense's over 100 patent-pending applications and exclusive license to over 250 patents.
"Ouster Automotive has the industry expertise, ability to execute, and resources to be a leading partner with automotive OEMs and Tier Ones alike," said McIntyre. "With the combination of our two companies, we are well-equipped to deliver on our existing automotive wins and future high-volume series production programs."
Automotive Industries (AI) asked McIntyre what makes the Ouster Automotive approach different to that of other LiDAR Companies.
McIntyre: Ouster Automotive is focused on bringing to the market high-performance and affordable solid-state digital LiDAR for automotive series production.
Ouster Automotive is uniquely positioned as an ideal partner for both automotive OEMs and Tier 1s, with the ability to serve as a single supplier for an entire vehicle, reducing the overall cost and complexity of the program.
AI: Please tell us a little about your solid-state LiDAR Technology.
McIntyre: The DF (Digital Flash) series is a suite of short, mid, and long-range solid-state digital LiDAR sensors, utilizing a single flexible architecture. The DF series provides uniform precision imaging without motion blur across an entire field of view. With absolutely no moving parts, the DF series is built for best-in-class reliability, durability, and affordability.
The DF series is designed to meet automaker requirements for ADAS and automated driving, while seamlessly integrating into the vehicle architecture and design. Ouster expects to make the DF series available for consumer vehicles starting production in 2025. We are already shipping functional prototypes and samples to OEMs and Tier 1 partners.
AI: What does the M&A of Ouster and Sense Photonics bring to the LiDAR Automotive marketplace?
McIntyre: Ouster and Sense are an ideal pairing. By combining Ouster's digital expertise and maturity in product development and manufacturing with Sense's advanced solid-state digital LiDAR silicon we expect to accelerate the delivery of our multi-sensor digital LiDAR suite for the ADAS market.
Ouster's digital technology has enabled it to pull ahead in the industrial, robotics, and smart infrastructure markets, and emerge as a top player in automotive. Together with Sense, Ouster is on its way to becoming the clear leader in technology and performance, poised to continue to capture share in auto and non-auto verticals alike, including smart infrastructure, industrial, trucking and robotics.
AI: What innovations can we expect coming down the product pipeline over the next 5 years from this new entity?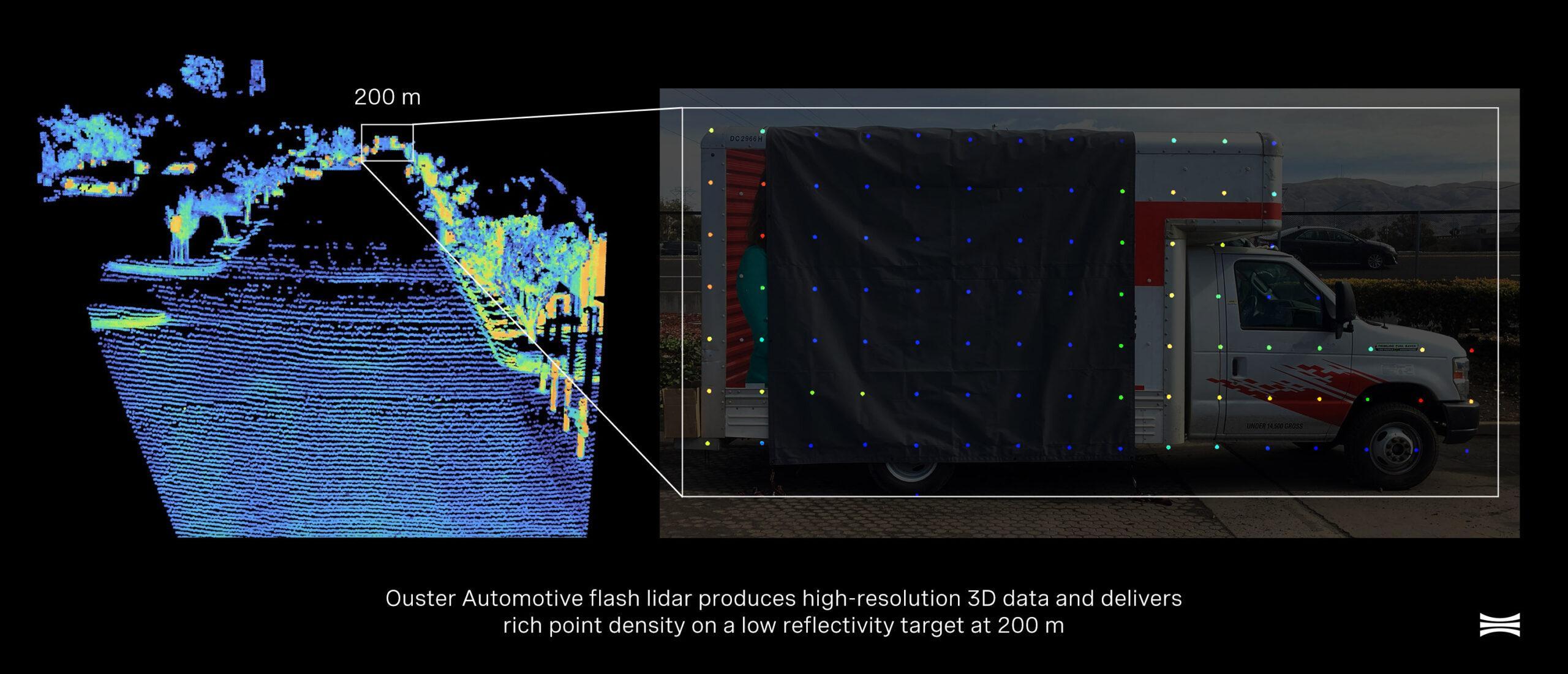 McIntyre: Ouster is differentiated by its digital LiDAR technology which uses silicon CMOS chips, allowing it to scale performance over time in line with Moore's Law. Our digital approach also results in a simplified system architecture making our products highly manufacturable. Even more, we can drive additional sensor performance through over the air software updates. Over time, we expect to further improve our sensor performance, form-factor, reliability, and affordability in order to help digital LiDAR become a standard safety technology for any vehicle.
Advisory board to accelerate LiDAR development 
Ouster is speeding up the development of high-resolution digital LiDAR sensors for the automotive, industrial, smart infrastructure, and robotics industries through the formation of an advisory board.
The board consists of industry leaders with deep knowledge and expertise across Ouster's addressable markets and decades of experience building and leading global enterprises, according to the company.
It says the Ouster Advisory Board "is engaged in support of Ouster's mission to make the world safer through the adoption of digital LiDAR. Its members will provide strategic counsel to Ouster's executive management as well as access to their networks to strengthen the Company's relationships with key customers and partners". Founding Ouster Advisory Board members include:
Barbara Humpton: Chief Executive Officer at Siemens USA and Board Director at MorganFranklin Consulting; former Vice President at Booz Allen Hamilton and Lockheed Martin.
Henio Arcangeli, Jr.: former Senior Vice President of the Automobile Division at American Honda Motor Company, as well as President of the Motorsports Company at Yamaha Motor Corporation, USA; currently an Advisor at ICON Aircraft.
Jim Cannon: President and Chief Executive Officer at AM General; former President and Chief Executive Officer at FLIR Systems as well as President at Stanley Black & Decker, Inc.
Maryrose Sylvester: former President of Electrification at ABB USA as well as President and Chief Executive Officer at GE Current and GE Lighting; currently a Board Director at Harley-Davidson, Vontier, and Waste Management.
Philipp von Hagen: Managing Partner at Future Industry Ventures; former Member of the Executive Board at Porsche Automobil Holding SE, the majority shareholder for Volkswagen Group.
Richard Freeland: Former President and Chief Operating Officer at Cummins Inc.; currently an Advisor at Embark Trucks as well as a Board Director at Cooper & Standard and Valvoline.
Sandy Stojkovski: Chief Executive Officer of North America at Vitesco Technologies; former President and General Manager of Powertrain North America at Marelli, Vice President of Global Engineering Excellence at ZF Group, and President at AVL.
"I am incredibly excited to work with our founding Advisory Board, and I am deeply appreciative of their commitment to Ouster as we aim to capture our multi-billion-dollar TAM," said Ouster CEO Angus Pacala.
"Each member has deep expertise across one or more of our four target markets and a sincere desire to help us navigate and execute on our commercial strategy. I expect Ouster to benefit tremendously from their networks and their counsel over the coming years."