Aerospace positioning technology is helping to steer autonomous cars through an award-winning solution.
GMV GSharp for automotive was recognized at the Seventh Edition of the European Automotive Suppliers Association (CLEPA) Innovation Awards in the "safe and smart" category as a ground-breaking solution based on satellite navigation technology that provides highly accurate and safe positioning information. It is now being used in the autonomous vehicles of the most prestigious global OEMs.
Madrid-headquartered GMV has a long track record of supplying software for the automotive sector, working with OEMs and Tier-1 suppliers. With more than 30 years of experience in GNSS-based technologies and more than 20 years of experience developing safe and accurate positioning systems in various sectors, the company is at the forefront in the development of positioning technologies for autonomous vehicles.
Automotive Industries (AI) asked Sara Gutiérrez Lanza: Director of GMV's Automotive Business Unit, what is behind the development of GMV GSharp.
GMV has been investing for many years—more than 30—in critical GNSS technologies and has been targeting safe and accurate positioning systems for more than 20 years now. More specifically, GMV has devoted a considerable amount of its R&D budget over the last 15 years to developing its own proprietary High Accuracy solution.
This solution is now being sold as GMV GSharp for multiple markets. The automotive market is particularly important, in which GMV GSharp provides high-accuracy, safe, and reliable positioning in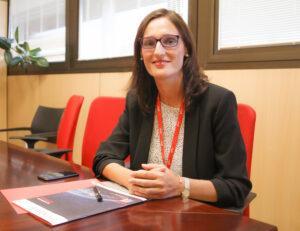 formation (position, velocity, and heading) for automobiles, which is later combined with automated driving functions.
GMV has strongly believed in using GNSS as a core technology and element for the development of autonomous vehicles. Capitalizing on the exceptional experience gained throughout the years in other critical sectors, GMV has incorporated concepts, such as integrity, which has traditionally been used in highly regulated safety-critical sectors, like civil aviation, to the automotive world.
Over the years, GMV has invested significant effort to adapt different algorithms that are used to calculate safe positioning to the environment and conditions of the automotive sector. Therefore, applying these concepts is now feasible to be translated to automated driving functions as well.
GNSS is the only technology that can be used for absolute vehicle positioning, which is essential for localization. It is consequently essential for driving support systems and automated driving systems. Absolute positioning (i.e., GNSS) is also necessary to define a reference framework in (C -) V2X systems.
Information exchanged by the vehicles with other vehicles or the infrastructure and other road elements to identify their location, the perceived environment, and their intended maneuvers require highly precise and safe positioning in addition to a standard reference framework that can be provided and built using GNSS.
High precision (and safe) GNSS also contributes to building and maintaining HD maps, which play a crucial role in autonomous vehicles.
These are a few examples of use cases where GNSS will play a pivotal role. So, our focus on a technology in which GMV is already a worldwide leader stems from the belief that it will play an absolutely essential role in driving the cars of the future.
AIL What makes it award-winning?
Gutiérrez Lanza: GMV GSharp for automotive is a robust, reliable, and high-performance solution that provides high accuracy and safe GNSS corrections, generated with GMV's GNSS Correction Service, which are later processed by its counterpart; an ASIL-B ready positioning software—Positioning Engine—that calculates reliable and precise vehicle positioning and other parameters using advanced algorithms developed by GMV, in line with the most demanding automotive regulations and the highest quality standards to develop critical software. To this end, the positioning engine uses GNSS signals, integrated with data from other sensors onboard the vehicle, together with the aforementioned High Accuracy and Safe GNSS corrections.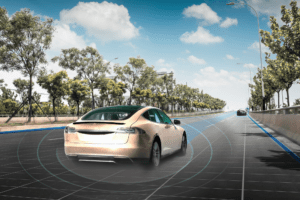 The GNSS Corrections Service and the onboard positioning software (Positioning Engine) have been developed following ISO 26262 and ISO 21448 standards to ensure compliance with the safety requirements that apply to autonomous driving. The solution also complies with the concept of security by design in accordance with ISO 21434, incorporating necessary countermeasures in the software and in the system to detect GNSS-related attacks (anti-spoofing and anti-jamming schemes) and other existing vulnerabilities.
While developing the solution, the rigorous project management practices required in the automotive industry were applied, and the strictest quality standards applicable to automotive software engineering (A-SPICE CL3) were followed.
Moreover, all this would make no sense if it could not be applicable to the targeted sector. Historically, precise positioning has come at a cost not affordable for the automotive industry (considering the significant volumes involved in such an industry). GMV's trustworthy and precise GNSS positioning solution enables autonomous vehicle manufacturers to significantly enhance accuracy and safety at a fraction of the cost of other ADAS sensors, as an affordable and very cost-efficient cutting-edge technology.
AI: How is it performing in the trials?
Gutiérrez Lanza: GMV GSharp for automotive is a ready-to-use solution with guaranteed performance resulting from years of work and thorough validation activities.
Following a cutting-edge safety validation methodology and approach that entails simulation, signal edit & replay activities, and more than 40,000 kilometers driven in different scenarios, we can ensure that we offer sub-lane level accuracy (centimetric), combined with an Integrity Risk of up to 10-7 per hour, high availability of more than 99.9%, fast convergence, almost instantaneous reconvergence times, and the guarantee to achieve this performance in different scenarios thanks to the hybridization with other sensors in the vehicle such as Inertial Measurement Units, wheel speed sensors, and odometers.
This makes our solution unique for the intended uses where it can be applied.
Additionally, GMV continues working to evolve the product to adapt it to the increasing demands of the automated driving market and others so that we are capable of always offering the most competitive solution to the market, both from a technical and commercial perspective.
AI: Why is it important to incorporate high-precision positioning with integrity?
Gutiérrez Lanza: GMV GSharp can be used for highly accurate positioning, but this is not enough. We need the positioning information to be safe and reliable. GMV GSharp for automotive incorporates the ability to detect and exclude sources of error and hazards affecting the positioning data in real-time, calculating a confidence area, defined by what is known as the Protection Levels. The probability of erroneous positioning information is extremely low and below a very demanding target probability (the Target Integrity Risk or TIR) within the confidence area. In this regard, the solution is accurate and trustworthy and can be used in autonomous and automated driving functions.
High levels of integrity are one of the keys to implementing safety-of-life automotive applications. Sensors, regardless of their performance, are only useful when the system can trust their output. Providing protection levels and alert limits at a Targeted Integrity Risk (TIR) enables Advanced Driver Assistance Systems (ADAS) to have the confidence required in the position and velocity output delivered by the system.
AI: How is the solution validated so that you can guarantee the expected performance?
Gutiérrez Lanza: We are facing an exciting advancement and revolution of transportation with the advent of autonomous vehicles. Many different technologies, such as GMV GSharp for automotive will be essential to make this possible and will need to work together, guaranteeing the strictest levels of safety necessary to make this reliable.
This brings the associated challenge of sufficiently validating these technologies. Traditionally, a mainly driving-based approach has been followed to test and validate the solutions on board the vehicles. As safety requirements become increasingly demanding, a thorough validation approach is necessary, which combines different methodologies, including simulation techniques, recording and replaying signals, and a sufficient number of driven miles.
Considering the Target Integrity Risk needed for the solution, the only alternative to validate it is wisely combining these approaches based on the lessons learned in other markets where the performance might be comparable to the automotive market. GMV already applied this and will make further progress on it in the future.
AI: What other solutions does GMV provide for the motor industry?
Gutiérrez Lanza: GMV has around 20 years of experience in the supply of solutions for the automotive sector, working with automotive OEMs and Tier-1 suppliers.
Capitalizing on solid automotive software development expertise and capabilities, GMV's offer incorporates a wide variety of telematics solutions for connected vehicles, which are running in more than four million vehicles at present, including regulated applications and services such as European eCall, ERA-GLONASS, and the Japan's Helpnet service.
Other relevant applications and services GMV is concentrating on are Co-operative Services (C-ITS), where different application use cases entailing V2V or V2X communications are noteworthy. Some of these services are Hazardous Locations Notifications, Road Works Warnings, VMS, and many others, as well as specific mobility services based on using GNSS as a core technology (this would be the case of GNSS-based electronic tolling or paying for the use of the infrastructure), to name a few.
Last but not least, another market niche where GMV is growing is cybersecurity for connected and autonomous vehicles, supported by its solid background in cybersecurity, which is being synergically leveraged with its solid automotive background.
AI: Where do you see future demand, and how are you planning to meet it?
Gutiérrez Lanza: Today sensors such as radars, cameras, and LiDAR are used to map the environment. These technologies are extensively used, which creates a frame of reference so autonomous vehicles can perceive and detect the presence and status of objects and maneuver accordingly. We can use this to estimate the relative position and location of the surrounding objects. In this sense, local sensors can be used to locate objects that are relevant for vehicle maneuvers and for the localization of the vehicle. The localization function—for the vehicle or objects—is essential in the autonomous driving process.
The camera, radar, and LIDAR are sensitive to environmental conditions and might fail in specific situations. To meet the most demanding requirements of autonomous driving, the system must be capable of progressively increasing the availability of the overall localization function and increasing the level of accuracy. This needs completely independent sensors with complementary characteristics. GNSS can fill this role, providing these complementary characteristics, and largely increasing the availability of the localization function.
As GNSS is the only sensor technology that can be used for absolute positioning down to centimeter-level accuracy and support for high-precision positioning with accuracy and integrity, we see a promising market ahead. Even with a conservative approach of the addressable market by the end of the decade, we could expect 13 to 15 M vehicles with levels of autonomy (L2++ and above) requiring a solution such as GMV GSharp for automotive.
In this sense, a considerable effort is being made to capitalize on all the work done so far and to further progress the product according to the most demanding needs of automated driving with milestones defined for the short term, with the increase of the Operational Design Domain of the localization function in highways, for the mid-term—in which the performance in urban environments will be significantly enhanced by integrating additional sensors into the solution or incorporating further constellations to the ones currently used—and for the long term, with potentially hybridizing with communications technologies (e.g., 5G), as some of the options under consideration.
The objective is to clearly lead the supply for safe and highly precise positioning for autonomous driving vehicles with our outstanding performance solution.
AI: Would you like to add something else?
Gutiérrez Lanza: Just to thank Automotive Industries and the readers for their interest in GMV's technology. We are excited to be part of this revolutionary time in transportation, and we are certain that technologies such as GNSS and GMV GSharp will make a special contribution to go a step beyond in the way we move, where safety will be the core of it.