Virtual tours, training and product demonstrations are needed more than ever with Covid-19 regulations restricting travel and meetings.
Advances in virtual reality (VR) production software have opened up the tool to all departments within corporations, as well as small and medium businesses. Munich-based software company VRdirect has released a new version of its VRdirect Studio, which allows for VR applications to be created directly without the need for expert knowledge.
All applications can be used company-wide and made available across departments in a central hub application. In addition, Virtual Reality projects created with VRdirect Studio can be published instantly via any VR-ready device, smartphone or web browser and updated in real-time.
How the company's products work is as follows:
VRdirect Studio
The VRdirect Studio is the authoring tool, that clients can use to create VR projects, upload VR projects to the cloud and manage VR projects on the cloud. VRdirect Studio is provided as an offline version for installation on PC and Mac as well as a browser-based Web-Studio version.
Following the upload of a VR project to the cloud, projects are processed to ensure maximum compatibility of the VR projects with user devices (transcoding). Subsequently, the VRdirect cloud will host multiple versions of the same VR project for different codecs and resolutions. The VRdirect cloud distributes the content to any user device via Azure media streaming services. All data transfer is encrypted to ensure maximum security for confidential data of clients.
VRdirect Player
Then comes the VRdirect Web Player. Built as an HTML5 web player, it can be integrated in any webpage via an embed code that is provided in the VRdirect Studio. The Web Player is constantly updated to ensure maximum compatibility with relevant browsers (desktop and mobile). The VRdirect App is available for download in iOS, Android, Oculus and Pico. Using a link, QR code or project code, which are all provided in the VRdirect Studio, users can access and provide access to the VR projects.
VRdirect App
The VRdirect App is the recommended distribution channel for large/complex VR projects. The VRdirect App will download the VR project, which also allows for offline usage of a VR project. After download, the app will check if the VR project is still available by the content owner and eventually delete the content automatically if the content was unpublished by content owner. The company also offers customized apps called custom white-label apps.
VRdirect's clients include some of the biggest companies in Europe including Porsche, Nestle and Deutsche Telekom. Examples range from showro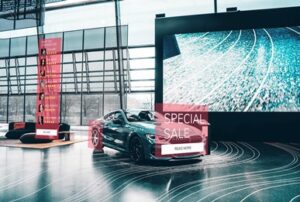 oms, to museums, to on-track experiences, HR training, product presentations and entertainment.
One luxury car-marker has used VR to educate employees about the various components that make their electric vehicles work. Using VRdirect's platform, a VR training experience was created that allowed users to explore a captivating exhibit while guided by a narrator. As they navigate around the space, they approach displays containing both an animated electrical component and an interactive quiz pertaining to it.
"The client was able to distribute this project in a variety of ways. Their primary means of distribution is downloading the app on VR headsets, which they acquired specifically for the occasion.
"When one is not on hand, however, they are also able to simply open the experience through a web browser with a web player or any smartphone or tablet, as well as share a link to it through their company intranet. For a huge company like this client, a training experience has to not only be compelling, but also easy to share and access company-wide," says VRdirect.
Technology major Siemens uses virtual reality for its environment, health, and safety (EHS) training. EHS focuses on implementing practical aspects of environmental protection, risk reduction and safety at work. Setting the highest standards throughout their line of business, ensuring the safety and health of their employees is an important and ever-present matter for Siemens.
In collaboration with VRdirect, Siemens created a virtual tour through one of its industrial facilities. In this first use case, users can explore the immersive and interactive training environment while actively engaging with the necessary information.
"There were different factors that played into the decision (to use VRdirect). Mainly the ease of use as well as excellent customer service and the low hardware costs. Also, the fast implementation of small projects and their central integration into the existing media landscape were important reasons for choosing VRdirect," said Martin Weber Senior Manager Digital Distribution, Siemens Smart Infrastructure / Distribution Systems / Operational Excellence.
VRdirect says that, besides EHS, popular use cases include onboarding, virtual tours, site transformation, quality management, audit preparations, events, and client services. With no special development skills needed, and in only a short amount of time, divisions create complex interactive experiences tailored to their own specific needs with nothing more than a clear idea of a story and a couple of 360° images or videos. Projects can be constantly updated or developed further in real-time.
"In addition to the possibility of embedding the VR projects in web surroundings, the Siemens VR app (available in the company's internal app store soon) serves as a central hub that allows code protected access to the Virtual Reality projects. This flexibility is a major benefit. As an example: A Virtual Reality project created for EHS training in a specific scenario as the Escape Game (on- or offline use on-site, consumption over VR glasses etc.) can be adapted and used at the same time via web or app from anywhere," explains the company.
Automotive Industries (AI) asked Rolf Illenberger, CEO VRdirect, to share some of the features of the latest version of VRdirect Studio.
Illenberger: It allows for the integration of Webhooks into VR projects. This widens the capabilities of the VRdirect Studio in a significant way. For example, dedicated analytics or e-commerce tools can now be connected to VR projects to extend the feature set of the VRdirect Studio and/or better integrate VR projects into clients' software ecosystems.
The new update includes many new features designed specifically for the needs of enterprises and creators. Such as the new Cloud Backup and Storage feature, VR projects can now be stored in the VRdirect Cloud. Besides backing up projects, this feature simplifies collaboration within teams. VR projects can now be shared via the VRdirect cloud and accessed and opened from any computer. Exporting VR projects for collaboration is therefore no longer necessary.
AI: Have the updates improved security?
Illenberger: A new passcodes feature can be used to restrict access to individual VR projects. Sensitive or secret content can thereby be hidden from the eyes of unauthorized users. This feature allows significantly higher control over the accessibility of VR projects.
VRdirect uses Microsoft Azure Cloud infrastructure to deliver its service, and can ensure security levels on par with on-premises hosting solutio
ns. VRdirect is committed to a high level of data security and is fully compliant with GDPR.
AI: Tell us a little about VRdirect's custom white label apps.
Illenberger: VRdirect can provide custom white label apps for clients with the same functionality as the VRdirect app. According to client use cases, custom white label apps can be distributed via App Store or private distribution. The distribution and (app store) management of a white label app typically requires the involvement of the client's IT / App Store team but can also be managed by VRdirect. VRdirect will provide support in this process.
VRdirect white label apps are based on the same core as the VRdirect app, but are customizable with regards to look & feel, mode of work, legal documents etc. As VRdirect updates the VRdirect app, all custom white label apps are updated accordingly to ensure smooth operation.
AI: What makes your VR applications stand out?
Illenberger: VRdirect is unique in its drag and drop construction feature. It's more like PowerPoint, or Word than Avid and Final Cut Pro. It has a simplicity that is very easy for the end-user to understand and requires only a 3D camera to create environments. Furthermore, it is compatible with video, audio, e-commerce links and external links. There is an ability to bring the world-wide web into a virtual reality setting that exists solely on VRdirect.