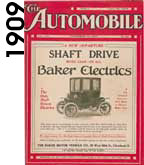 About Automotive Industries (Ai)
Today's car makers and the major systems suppliers are building 100m+ vehicles per year and are constantly looking for new suppliers, new innovations and cost savings opportunities in today's difficult market for car makers, new fuel efficient technologies and new suppliers in low labor cost emerging markets.
The automotive industry is often considered to be one of the most global of all industries, Ai offers global media coverage for the industry, by 2022 there are expected to be 1 billion+ cars on the planet
Automotive Industries (Ai) is the world's oldest continually published trade publication covering the automaking business. It was founded in November 1895 as "The Horseless Age," the first magazine created to cover the world's transition from horse-drawn conveyances to those powered by the new internal combustion engine. The magazine changed its name to "The Automobile" in July 1909, an era when gasoline, steam and electricity all vied for preeminence in motive power.
Automotive Industries Readership
Ai Print Readership 18000 @ 3.6 readers per copy plus Ai Online – 3.3m Social Media Impressions LI, FB & TW
Ai_Automotive_Industries_Social_Media_Monthly_Impressions_3,312m
The magazine's present name was established in November 1917. The title was briefly amended to "Automotive and Aviation Industries" during the World War II years, as the magazine expanded its coverage of technologies and production methods to include the aircraft industry, in which many automakers participated.
If you go back and look at The Horseless Age* (*Automotive Industries was formerly The Horseless Age from 1895-1917), it's sort of like the Byte Magazine of the PC industry, very hardcore, covers all the models in-depth, explains what's going on inside……definitely part of getting things going – Bill Gates, Founder of Microsoft –
AI is and has always enjoyed iconic status among the automotive design, engineering, and manufacturing world – and thus AI can command a value-added relationship to the marketplace
Automotive Industries DiMora Vicci 6.2 Emperor Cover
Automotive Industries is devoted to providing a global coverage on all aspects of the automobile marketplace, with an emphasis on the people, products and processes that shape the industry. Automotive Industries provides manufacturers and suppliers with in-depth news, information, insight and analysis on the global events that affect the auto industry.
Automotive Industries print audience plus Ai`s online readership are the who`s who of automotive decision-making, including major carmakers, system suppliers, 1st tier and major 2nd tier award winning supplier companies.
Call our account executives at Automotive Industries magazine for further details on +1 313 879 0887