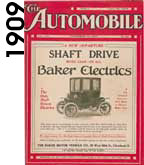 About AI
Established in 1895, Automotive Industries (AI), is the world's first Automobile Publication that has been documenting the evolution of the automobile business. Originally named "The Horseless Age" – AI has tracked, and analyzed crucial industry shifts from horse-drawn vehicles to the era of internal combustion engines, and now to the emergence of electric and self-driving cars. It represents an excellent opportunity for potential buyers to secure a well-established media brand within the thriving automotive market.
Automotive Industries (Ai) operates on a multifaceted service platform, offering high-value sponsorship, cover interviews & stories and lead-generation programs that extend beyond traditional banner ads. The programs include highly targeted advertising by topic and/or keyword, sub-niche sponsored newsletters
Ai leverages its wide reach on various platforms to maximize exposure for its clients' advertisements. Through broadcasts on social media platforms like Ai, LinkedIn & Facebook, Ai can reach up to 3.6 million automotive industry professionals. Ai uses its active presence in various online automotive professional groups to extend the reach of client advertisements.
Ai maintains a robust social media presence with over 90,000 posts per annum, targeting 3 million+ professionals via Ai, LinkedIn and Facebook. This effort results in 900,000+ LinkedIn post impressions annually.
Automotive Industries (Ai) operates within a competitive landscape that includes notable competitors such as:
Automotive News: Published by Crains, Automotive News offers broad coverage but lacks Ai's diversified product offering and targeted marketing approach.
Automobilwoche: A German-language weekly newspaper that predominantly caters to the German-speaking market, Automobilwoche does not possess Ai's global market scope.
Wards Automotive: An American publisher with a US-focused approach, Wards Automotive doesn't match Ai's international outreach and robust digital presence, including unique platforms like metaverse engagement.
Despite these competitors, Ai's unique digital offerings, combined with a compelling Return on Performance initiative, positions it as a strong competitor in the market.
The team at Automotive Industries (Ai) is comprised of dedicated and seasoned professionals, each bringing a diverse set of skills and experiences to the table.
Ai is and has always enjoyed iconic status among the automotive design, engineering, and manufacturing world – and thus Ai can command a value-added relationship to the marketplace
Automotive Industries is devoted to providing a global coverage on all aspects of the automobile marketplace, with an emphasis on the people, products and processes that shape the industry. Automotive Industries provides manufacturers and suppliers with in-depth news, information, insight and analysis on the global events that affect the auto industry.
Automotive Industries audience are the who`s who of automotive decision-making, including major carmakers, system suppliers, 1st tier and major 2nd tier award winning supplier companies.
Call our publishing team at Automotive Industries for further details on +1 313 879 0887