The automotive industry, buffeted by growing uncertainties due to the pandemic-related economic slowdown across the world, faces other challenges such as sourcing raw materials. According to the Atlanta-based risk data analytics firm Vertaeon LLC, the automotive industry is currently under regulatory pressure to reduce its CO2 emissions per mile, sparking a massive manufacturing transition to electric vehicles (EVs). The EV passenger car market is expected to enjoy robust growth globally in the coming decade. However, just as supply chains are morphing to accommodate this transition, a potential shortage of minerals used in EV batteries is also appearing on the horizon.
To help confront this newest sourcing challenge and avoid a repeat of the impacts from the current chip shortage, Vertaeon says in an August press release, that it is offering its innovative, cloud-based analytics tools to enable supply chain and business leaders to develop comprehensive risk assessments and mitigation processes. Vertaeon combines its proprietary and highly economical SaaS platform with deep experience in the automotive-manufacturing industry to provide the business intelligence companies need to navigate through such a tumultuous environment.
"Concentrations of key minerals for battery components in South America and South-East Asia can be risk drivers in terms of geopolitical tensions, natural disasters and higher shipping costs. The already identified upstream negative environmental impact of mineral mining can also create future challenges, for example exacerbating the drain on the water supply. Such risk factors combined with the shift toward the next generation in battery technology (potentially overtaking the rare mineral issue) could trigger a rapid change in the regulation—and ultimately in the production of EVs, favouring alternate options instead, hydrogen vehicles for instance," says Vertaeon.
Vertaeon points out that from a raw-material perspective, challenges include availability, cost, location concentration and profitability. Some of the key raw materials such as lithium, face an impending shortage due to mining economics, technical and sustainability considerations. Nickel, another vital material for the automotive industry, is facing issues with refinement and the fact that Asia offers largest reserves. Similarly, cobalt is getting difficult to procure due to ongoing conflicts in the Democratic Republic of Congo and labour issues.
Vertaeon, who leverages strategy, operational expertise, and technology to enable data analytics for the assessment of business risks and due diligence for strategic initiatives, offers solutions for problems such as these. Founded as an advisory firm, Vertaeon identified a critical market need and has successfully realigned as a data analytics SaaS provider in recent years. Vertaeon is a thought leader in this field and has launched comprehensive enterprise and supply chain risk analytics products to promote sustainable operations and mitigate business risks.
Vertaeon's solutions are aimed at a number of industries including the automotive industry. For the latter, the company's solution involves the application of machine learning to aggregate, transform and analyse various large and disparate supplier data via a proprietary web-based platform. Vertaeon has the capability to identify relevant information for various segments of a complex value chain, to launch adaptive surveys for various regions and to develop actionable insights. The solution provides an ongoing and in-depth assessment of financial, operational and ESG (environmental, social, governance) risks. This is further enhanced by country and sector related risks and intelligence.
"We have the capability to source and extract data from numerous sources and analyze a multitude of Risk indicators. Vertaeon applies our patent-pending analytics model for scoring and ranking to prioritize risk management and mitigation efforts. In addition, leverage our capabilities in sustainability analytics to track, prioritize and execute your responsible sourcing efforts – whether it is for translating your company code to supply chain or meeting customer sustainability expectations." says Vertaeon.
Automotive Industries spoke to Rekha Menon-Varma, Managing Partner, Vertaeon LLC.
AI: What kind of challenges are automotive companies facing in sourcing?
RMV: The imbalance created by the ongoing chip shortage is an excellent example of a perfect storm caused by the convergence of evolving market trends, overlayed with geopolitical tensions, and post-pandemic demand surges. The chip shortage highlights the need for the automotive industry to have better visibility into manufacturing suppliers, sector trends and customer needs, to gain a clear understanding of the volatility and shortcomings within its value chains. While there's an enormous amount of data available, many organizations haven't leveraged it toward meaningful contingency planning for the next shortage or risk event.
AI: How can Vertaeon's solutions help?
RMV: The anticipated sourcing challenges point to the need for comprehensive supply chain assessments to identify all risk factors, from financial to operational to geopolitical, and associated vulnerabilities. One cannot navigate this fast-evolving environment without a holistic program that identifies risk drivers relevant to their business to inform and develop contingency plans. Advanced analytics, coupled with artificial intelligence and machine learning, is the perfect enabler that can make a significant difference in a company's ability to handle future crises. Having our finger on the pulse of the market trends and dynamics is the peace of mind that we offer our clients.
AI: How does this work in practice?
RMV: With Vertaeon's intuitive enterprise and supply chain risk analytics, we can identify, assess, prioritize and monitor on-going risks relevant to supply, sales, markets or company. We take a comprehensive approach by combining internal risks with macro external risks such as geopolitical or natural disaster risks. This holistic assessment is deployed via a secure, user-friendly, cloud platform which not only eliminates IT installation, but promotes sharing and collaboration among global teams. The global data extraction, transformation and analytics capabilities from Vertaeon, which are being used to identify and monitor to key value chains such as automotive, can also be used to guide corporations in their strategy development.
Automotive Industries also spoke to David Chouvelon, Business Development, Vertaeon LLC.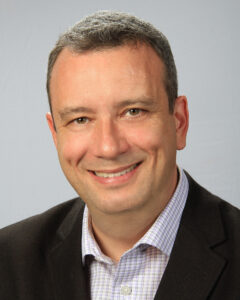 AI: How does Vertaeon's platform differ from other forms of risk assessment available?
DC:  The Vertaeon platform covers multiple facets of due diligence that is used ultimately to determine the company's real value with 100-plus risk indicators. This is where having the support from Vertaeon Risk Analytics can make a huge difference in the visibility and depth of information needed to make the right decision. Vertaeon's patent pending platform can gather large amounts of data and analyze indicators from multiple sources on multiple risk factors, not only for the target company itself but also for the tier 2 partners it is doing business with, or its customers.
In other words, using Vertaeon's platform will most likely uncover information that may easily be missed by the traditional due diligence process. During an evaluation process that can sometimes take months, you can always be sure of having the most updated analytics and insights for decision making and valuations, in a matter of weeks.  Whether this additional information is critical or not, that is for you to determine …but one thing is sure, without it you will never know!
AI: How have recent political and geopolitical events impacted supply chains?
DC/RMV: The February 2021 supply chain Executive Order called for a 100-day supply chain review of various industry segments including electric vehicle, semiconductor and minerals, signalling  the strategic importance of this to the US manufacturing sector. We saw the electric passenger car market growth by triple digits in EU countries, with China being the leader in overall volume, in 2020. Post-Covid growth estimates are even higher. EVs and hybrid-electric vehicles are projected to account for an estimated 30% of all vehicle sales by 2025. All these indicate a fast-growing market trend for EVs, and countries as well as companies are racing to capture a competitive advantage.
With the push to align the automotive industry for carbon-free individual mobility, we anticipate rapid changes in the industry and its players (integrations and alliances), and increased risk of supply-delivery related issues including limited resources, the availability of skilled labour for the assembly lines and unforeseen geopolitical or disaster events. Risk awareness and monitoring will be critical to succeed.
To increase the visibility and preparedness for global automotive industry players, Vertaeon has recently launched a new industry specific tool with over 3000 main players and hundreds of risk factors monitored and periodically updated. This cloud-based risk platform can be launched within weeks to global teams.  Vertaeon is also entertaining an introductory offer of a free month to AI readers. For more information or to request a demo, please contact info@vertaeon.com