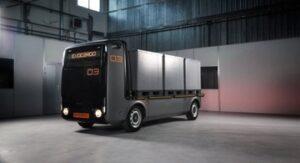 All-electric and hydrogen-powered unmanned carriers are helping to reduce logistics costs, while greening the supply chain.
These transporters have gone beyond prototype stage, as demonstrated by Evocargo, which showcased its electric, unmanned vehicle called EVO.1 at CES 2022, which was staged in Las Vegas in January 2022.
Weighing 3.5 tons, with a payload capacity of 1.5 tons, power reserve of 155 miles and operating time of 20 hours with 40-minute charging time, the EVO.1 is designed to improve the logistics chain processes.
Research, according to Evocargo predicts that the autonomous vehicle park for light goods handling, which EVO.1 belongs to, is expected to reach approximately 215,000 by 2030. The market focus is on the United States, Germany, Netherlands, France and Italy.
As a part of its Smart Logistic service, Evocargo says that is all-electric/hydrogen autonomous vehicles ensures that its customers' operations are always on time, optimized and precisely coordinated through all process cycles.
The company offers a full range of logistics services tailored for each customer's logistic ecosystem to support smarter, ecological, sustainable and efficient solutions for their business.
Established in 2020, Evocargo's head office is in the United Arab Emirates. Evocargo describes itself as an innovative global logistics company in manufacturing and implementing autonomous all-electric/hydrogen-based 'in hub' delivery vehicles designed for indoor and outdoor premises.
Evocargo manufactures and deploys autonomous all-electric/hydrogen vehicles, both as in-hub solutions for enclosed premises and as hub-to-hub long-haul solutions. Evocargo claims that its vehicles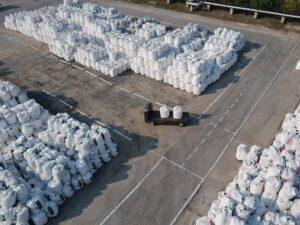 are smarter, greener, more sustainable, and more efficient, integrating seamlessly into clients' logistics ecosystems and advancing their business goals.
Evocargo has more than 10 EVO.1 vehicles in its fleet, and expects to manufacture and deploy another 40 in 2022.
"Evocargo's vehicles are not prototypes but working machines that have already been commercially implemented in a wide variety of logistics and manufacturing facilities including warehouses, logistic centers and construction. They will operate in closed areas such as railway warehouses, logistic centers, factories, airports and ports," says the company.
Its unmanned vehicles aim to maximize cargo transportation volume and payload without air-pollution.
The vehicles are run on hybrid power systems based on electric batteries and hydrogen fuel cells.
There are two variants of its unmanned vehicles – the EVO.1 which is in the light N1 class vehicle category for closed areas, or "in hub" areas and handles light cargo up to 1.5 tons. The vehicle is currently being mass-produced and commercially operated.
Then there is the EVO.3 which is the company's heavy N3 class vehicle for long-haul transportation of cargo up to 20 tons.
The prototype for this driverless truck, which we designed for use on public roads using the hub-to-hub model, will be released in 2022, according to Evocargo.
The fundamental difference between the two models of autonomous vehicles is that the EVO.1 can be fully electric (with two batteries) or hydrogen-powered (with one battery and one fuel cell), while the EVO.3 will always be equipped with a hydrogen fuel cell to be able to travel longer distances.
The EVO.3 is expected to be launched in the spring of 2022.
Automotive Industries (AI) asked Andrey Bolshakov, Founder & CEO, Evocargo, what the response of industry has been to the unmanned vehicles.
Bolshakov: In 2021, we signed three contracts with facilities for services and executed seven commercial cases.
Based on our market research, our partners can decrease their transportation costs by up to 60% with the implementation of EVO.1. Besides, the new vehicles significantly impact the sustainable economy as the operation of EVO.1 totally excludes environmental pollution.
For us, participating at the Consumer Electronics Show also meant the beginning of our expansion into the US market. Starting the expansion to the US market in 2022, as we are planning on signing with several facilities for commercial PoC.
AI: What makes Evocargo unique in the logistics ecosphere?
Bolshakov: We create ground-up unmanned cargo transportation solutions. That means we build the vehicles, develop the software, and handle the deployment, all in-house without subcontractors. We also provide all the equipment, including charging stations.
And because we own the vehicles, our clients never even have to think about fleet maintenance.
Evocargo clients choose from two levels of service. The basic level is fleet management, where we handle all vehicle dispatch.
Our data and experience show that a single dispatcher will soon be able to manage up to 10 vehicles. At the next level, we use API integration to manage all the logistics for the client's facility, not just the autonomous vehicles.
AI: What are the benefits of using your technology and services for customers?
Bolshakov: We estimate that our clients can reduce their transportation costs by up to 60%. Most of that impact comes from minimizing the human factor, improving delivery time precision and warehouse load planning, and reducing maintenance costs (electric motors are simpler and more reliable than gasoline engines and do not require expensive upkeep).
The EVO.1 platform seen at CES, integrates without any special infrastructure or markers. Since it is designed to work inside closed facilities (in-hub), no expensive LiDAR is required.
We do everything in-house: from platforms to software and even the hydrogen fuel cell batteries. We own the entire stack of necessary technologies (we hold 37 patents to date, including a unique computer vision system, hydrogen fuel cell batteries, and storage batteries), and we have our own production facilities.
AI: Who is your target audience?
Bolshakov: We want to talk to top managers at companies that operate closed facilities, specifically СEOs, CTOs, СDOs, CLOs (Logistics), and CGOs (Green).
We are not focusing on any particular niche, because EVO.1 is a universal solution for any industry that operates closed facilities (in-hub): manufacturing, warehouse complexes and transport hubs, ports, airports. EVO.1 has three body types for a variety of loads (flat for pallets, body with sides, and van).
According to our study, by 2030 there will be an estimated 215,000 light cargo driverless trucks and 130,000 long-haul driverless trucks on the roads in the United States, Germany, the Netherlands, France, and Italy.
AI: What were the reasons for making the UAE Evocargo's headquarters?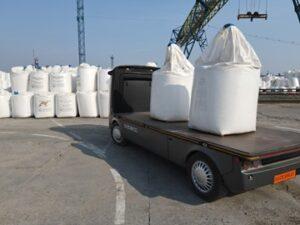 Bolshakov: We have ambitious targets to create awareness of smart logistics service provided by full-size unmanned vehicles EVO.3 (N3 class) and EVO.1 (N1 class), which significantly impacts the logistics industry.
With UAE being the best place to develop new business connections and potential clients, our cooperation with RTA of Dubai offers us an ideal platform to highlight our latest Autonomous innovations in Smart Logistics service.
AI: When do you expect to see commercial success for your autonomous, electric/hybrid vehicles?
Bolshakov: We are already operating. We have signed our first three contracts and launched serial production of the EVO.1 in 2021, producing over 10 vehicles.
Our plan for 2022 is to produce 40 vehicles. We have a commercial product that we can implement very quickly. In many cases, we can get our vehicles moving cargo at a new site in just 4-5 days.
We create a digital model of the facility that is loaded into the system with permanent routes outlined. That gets our vehicles up and running fast and lets them continue to move cargo safely even when the GPS signal is unstable or lost.