Companies can reduce the carbon footprint of the manufacturing process by recycling packaging and other single-use components to form a closed loop.
Thorsten Koldehoff, Global Sales Manager at Pöppelmann KAPSTO®, says it is often the small steps that lead to big solutions. "To get the cycle going, you simply have to start somewhere. Drive, flexibility, personal commitment – only from this attitude is sustainability in industrial requirements feasible. And this is precisely the attitude that led a joint project between Pöppelmann KAPSTO® and Mercedes-Benz Hamburg to success".
Pöppelmann KAPSTO® manufactures plastic protective elements that are primarily used in industrial manufacturing and protect sensitive and function-critical components against the ingress of dirt during production, storage, and transport. Area Sales Manager Steffen kleine Stüve explains how Pöppelmann KAPSTO® is making the circular economy a reality:
"We want to preserve the high-quality material from which our plastic protective caps and plugs are made after use within the material cycle."
Commitment leads to solutions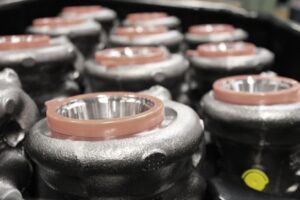 The Mercedes-Benz plant in Hamburg has long pursued the goal of contributing to sustainable manufacturing at all levels. The Pöppelmann KAPSTO® team learned this when it went knocking with a cooperation proposal. "We were invited to present our protective elements made of PCR-PE, i.e. protective elements made of polyethylene, which we manufacture from post-consumer recyclate," is how Global Sales Manager Thorsten Koldehoff, describes the start of the cooperation.
The people from Lohne spoke to production employee Svenja Hein and production foreman Günter Riggers, who are responsible for the exhaust manifold production area. They reported that their colleagues had often discussed whether the caps could be reused.
The high-quality protective elements are only in use for a relatively short time before they must be disposed of."The topics of sustainability and environmental protection have been firmly anchored in our plant for many years and enjoy a high priority," said Riggers, explaining the great interest among his teams. The optimum conditions were therefore in place for the project to get underway shortly afterward the proposal was accepted. Employees in the exhaust manifold production area now collect the protective caps, and a truck from Pöppelmann fetches them at regular intervals.
This success in reducing the environmental impact of manufacturing serves as an example of how personal commitment is at the beginning of many good changes. Because Günter Riggers and Svenja Hein literally cleared the way for the protective caps back to the manufacturer in the production halls. They didn't have to convince their colleagues. They were immediately willing to join in and dispose of the caps sorted after dismantling, says Koldehoff.
No compromise on quality
Before the cooperation project with the plastics processor, there had already been attempts at her plant to reuse the caps, Hein recalls. "But that couldn't work because of the high quality demands we place on the protective elements we use." Now she knows that collecting and recycling is the optimal process. With Pöppelmann KAPSTO® technology, the material to used to produce new caps remains at the highest quality level.
Production foreman Günter Riggers makes it clear that he supported the idea out of conviction from the start: "With this project, we were also able to demonstrate directly in our day-today work that sustainability is not just a trend for us. We are also aware of our responsibility for our environment in production."
Riggers underlines: "Ultimately, the quality of the products is the decisive prerequisite for success".
For Pöppelmann KAPSTO®, this means that the protective elements delivered from the plant in Lohne must always guarantee accuracy of fit, precision and safety – from post-consumer recyclate as well as from virgin material. Hein confirms this because the 100% fitting accuracy of the protective caps is decisive.
As an example, she points to the turbocharger housing, where KAPSTO® caps are used. This is a very sensitive component that must be protected from scratches and impacts during transport.
Foundation laid for future projects
After the first two years of cooperation, those involved in both Hamburg and Lohne draw a generally positive conclusion. The high-quality material from millions of protective caps flows back into the production of new protective caps instead of being disposed of as waste. It is an important milestone for Pöppelmann KAPSTO®, says Koldehoff: "We have shown that it is possible. We can introduce our protective elements into the material cycle in continuous series. And we are able and ready to extend this model to other collaborations." KAPSTO® is determined to build on the success of the project. "We would like to enter the circular economy with other customers. We are convinced that this is the future for short-lived plastic products," says Koldehoff.
He recognizes that a comparable cooperation with different customers will be associated with individually different requirements. "But the flexibility and customer orientation for which everyone involved in the KAPSTO® team stands, makes us certain: in each case, we will develop a practical solution concept with regard to the production processes and the options for collecting as well as picking up the protective elements."
Koldehoff emphasizes that Pöppelmann wants to make a measurable contribution to the realization of a new economic model with closed-loop projects like this one – as the EU Commission has set out to do with the "Circular Economy Action Plan". In all four divisions of the Pöppelmann Group, the focus is on developing product concepts for a closed material cycle.
With the establishment of the PÖPPELMANN blue® initiative in 2018, the plastics processor from Lohne in Lower Saxony also strategically steered the development of product solutions consistently in the direction of material cycles. Since then, this has been a key driver for all teams at Pöppelmann – including, of course, Pöppelmann KAPSTO®.
About Pöppelmann KAPSTO®
Pöppelmann KAPSTO® has been continuously expanding its range of standard parts for more than 50 years.
The range comprises more than 3,000 different plastic caps and plugs, which are supplied directly from inventory.
In addition to an extensive standard range, the engineers, and technicians at Pöppelmann KAPSTO® also develop individual special solutions in close cooperation with customers, including thermoforming trays developed to meet customer requirements.
The more than 2,500 employees and many years of experience of the traditional family business ensure high quality and productivity as well as the individual service of the plastics experts.