There is a perception among automotive OEMs that paint protection film (PPF) is a niche offering catering to luxury car owners and afficionados. Early adopters typically fell into those categories, and they continue to drive PPF sales in the U.S.
Look beyond domestic borders, however, and another story emerges. The global PPF market will exceed US$1 billion in 2021 and is growing annually, fueled by skyrocketing demand in China and other parts of the world. If PPF is a niche product, it's a really big niche, and getting bigger every day.
Several factors are driving the growth, starting with the maturation of PPF as a product. Early entrants in the market provided protection against chipping, but the PPF tended to degrade and yellow relatively quickly, giving them a practical lifespan of less than five years.
Today's PPF can double that. As the market has grown, materials and manufacturing technologies have advanced and become more refined, and PPF prices have stabilized and started to come down in relation to new car prices. Simply put, the value proposition for PPF has improved dramatically.
The dollars and sense of PPF
Consumers have started to notice. Marek Karafiol, co-owner of Detailking Group, a PPF installer in Katowice, Śląskie, Poland, estimates 20% of his customers fall outside the luxury car set and own Vokswagens, Kias, or similar makes. As recently as four years ago, Karaviol said, that number would have been near zero. He said the trend was consistent across Eastern Europe, where automobile owners see PPF as a way to protect their investment.
Buying a new car is a significant investment. The average new car price in 2021 is about US$40,000, up $5,500, or 14%, from just five years ago. Unsurprisingly, new car owners are driving those vehicles longer than they have in the past – an average of 8.4 years
for all vehicles and more than 11 years for the longest-held models (the Toyota Land Cruiser leads the pack at almost 11½ years, if you're curious).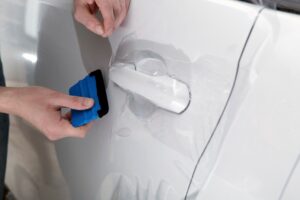 Of course, resale value often influences investment. The ability to recover as much of the original investment as possible is tied directly to the car's condition. If we use that 8.4-year average and apply it to a typical car – let's say a base-level, four-door Honda Accord – we can establish an appraised value based on the condition of the car's paint job. Using the appraisal tool at Kelley Blue Book, we can see the 2013 Accord in "good" condition with minor paint damage the only reported defect, has a value of $10,567. The same car in "excellent" condition has a value of $12,216 – a difference of $1,649.
This difference alone can cover the cost of a basic PPF installation, but dig deeper and you find additional savings. Over those 8.4 years with a new car, owners often choose to address minor paint damage as it happens, and those costs add up. Establishing an average cost for such repairs is difficult because the nature of the repair and quality of work vary widely. A cheap paint job can cost as little as $300-$900, but about a third of those who opt for the low-cost option say they are unhappy with the results. A mid-range repair runs anywhere from $1,000-$3,500, and a showroom-quality paint job can cost between $2,500 and $20,000.
All those repairs are temporary, as any car owner who ends up behind a dump truck can attest. A single repair may seem like a reasonable financial investment toward maintaining vehicle value. Two such repairs? Three? At some point, the old adage, "an ounce of prevention is worth a pound of cure," starts to resonate. Put more directly: When the average cost of a new car is $40,000, an up-front investment in PPF that is (1) likely to be recovered when the car is sold, and (2) will prevent repair costs and inconvenience, makes sense whether you own a Bugatti or a Buick.
Barriers to market expansion
Let's talk briefly about who we are and why we're writing about PPF. Lubrizol is not a PPF manufacturer. We make the raw material, called thermoplastic polyurethane (TPU), used in PPF. We supply our TPU to film extruders, who produce film for PPF manufacturers, who work with automotive OEMs and aftermarket installers.
We were among the earliest TPU suppliers in the PPF space and our ESTANE® TPU is considered a benchmark in the industry. We have learned in our 30 years in the PPF business that the siloed nature of the supply chain and the lack of direct communication between TPU suppliers like Lubrizol and PPF manufacturers – and even automotive OEMs – has limited market expansion.
Most PPF brands aren't aware that adjustments to TPU formulations can result in new PPF properties – enhanced resistance to UV light or extreme heat or cold, for example. TPU can be tailored to protect against certain types of acid rain or enable different, creative finishes that go beyond protection to deliver aesthetic benefits. A lack of collaboration and awareness of these capabilities up and down the PPF supply chain limits this type of innovation in PPF products.
To be fair,streamlining PPF development isn't a panacea. There are structural challenges that currently make it more cost-effective for consumers to choose aftermarket installation for PPF. Those challenges can be overcome if OEMs position more aggressively to enter the PPF business.
Signs of progress in the U.S.
Although growth of PPF in the U.S. may be lagging that in Eastern Europe and China, the market is significant. RV owners have been early adopters – the large, flat front of those vehicles is especially susceptible to chipping and bug damage. Charlie Herrmann, VP of sales and marketing for CCL Design in Cleveland, sees potential in persuading RV owners to cover their other vehicles: "They see the benefit of PPF on their RV, so it stands to reason they would consider it for their primary vehicle."
Electric vehicles (EVs) are another PPF-friendly corner of the automotive market for much the same reason. Most EVs have prominent, largely flat noses more susceptible to rock chips and other types of damage. EV owners in the U.S. have embraced PPF faster than owners of gasoline-powered cars. EVs make up just 2% of the global auto market today but are projected to hit 24% by 2030. In the U.S., the Big Three automakers announced early in 2021 that they planned for 40-50% of new vehicle sales to be electric models by 2030. PPF adoption among RV and EV is likely a precursor to more widespread use of PPF, and forward-thinking OEMs will find ways to leverage an existing market.
Bottom Line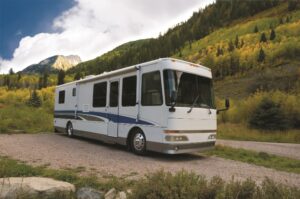 No one is predicting an overnight PPF revolution among non-luxury vehicle owners, but there are reasons to believe this is a market with untapped potential and circumstances coalescing to increase demand.
Rising car prices and increasing lifespans, maturing PPF technologies at the right price point, and the potential for supply chain efficiencies that can reduce costs and increase capabilities all suggest a bullish future for PPF. At Lubrizol, we're eager to work with PPF manufacturers and automotive OEMs to explore the limits of PPF technologies and deliver new and innovative options to all car owners interested in protecting their investment.
Peter Kirk
Peter Kirk is Global Market Segment Manager for Lubrizol's Surface Protection Segment, based out of their Cleveland, Ohio headquarters. He is responsible for driving new growth and managing their leading position in the paint protection film industry through focus on the company's thermoplastic polyurethane (TPU) technologies. Peter holds masters' degrees in business and marketing with a background in mechanical engineering and has 20 years of experience in high performance polymer film applications.