Vehicle manufacturers are adopting a software-defined vehicle (SDV) approach to vehicle development in order to accelerate technical development and enhance the in-vehicle driving experience.
SDV development includes building and testing software for a vehicle that does not yet exist. This is done by leveraging data and insights collected from vehicles on the road to create a simulated cloud-based environment. Support is being provided by Amazon Web Services (AWS) and Stellantis. They have entered a collaboration to "drive automotive innovation, invention, and reinvention," according to a January 2022 announcement.
Amazon technology and software expertise will be deployed across the Stellantis organization, including vehicle development, building connected in-vehicle experiences, and training the next generation of automotive software engineers. The companies will create a suite of software-based products and services that integrate with customers' digital lives and add value through regular over-the-air (OTA) software updates.
Automotive Industries (AI) asked Dean Phillips, Worldwide Tech Leader for Automotive at AWS, what AWS's industry-specific division and its "AWS for Automotive" initiative does.
Phillips: It brings together purpose-built automotive solutions and services from AWS and our partner community. There is a well-organized structure for our customers in a collection of solution areas featuring our partners and their offerings. Customers can leverage AWS-built solutions such as our AWS Connected Mobility Solution, build solutions alongside AWS experts in the Professional Services (ProServe) division, or leverage AWS's extensive network of partners to meet their business challenges.
AI: What is your approach to the auto industry?
Phillips: At AWS, we often talk about how we work backwards from the perspective of our customer. We start a project by writing a frequently asked questions document which gets everybody focused on the goal. Then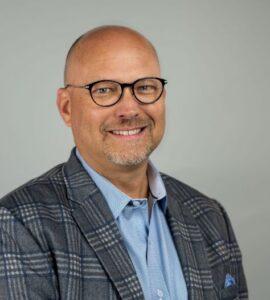 our solution architects and ProServe teams collaborate directly with customer. Our partner community is also available to add value.
AI: How do you see the demand?
Phillips: We've seen tremendous growth since I joined about four and a half years ago. One partnership that comes to mind is our relationship with BlackBerry. We're working together on the BlackBerry IVY™ solution, which makes it easier for automotive engineers to develop applications that live in-vehicle to combine data from multiple sensors, apply analytics and machine learning to create microservices and what we call "synthetic sensors".
AI: How does the cloud enable the growth of software defined vehicles?
Phillips: One of the really big challenges is connecting the automotive fleet. Technologies like IoT (Internet of Things) allow you to connect and collect data from millions of vehicles. That fleet of vehicles can be all over the world, with 26 AWS regions made up of over 84 availability zones. For ultralow latency use cases, customers are now able to take advantage of our Mobile Edge Computing solution with AWS Wavelength offered in 24 locations around the world.
AI: What does this mean for hardware development?
Phillips: Over the past 18 months we have seen significant development in the software-defined vehicle space. One enabler is the consolidation of hardware. Today you may find more than a hundred electronic control units (ECUs) from different suppliers all stitched into a vehicle. With consolidated architecture, you have something that is more like a data server on wheels.
Our customers and partners are building high-performance computers that make this possible. Our work with consortia like Scalable Open Architecture for Embedded Edge (SOAFEE), led by Arm the leading technology provider for processor IP, will define the virtualization layer and abstraction technology that will allow us to consolidate. From there, we can then deploy software to a single vehicle server over-the-air much more easily than today where there can be 100 or more ECUs.
AI: What about autonomous and semi-autonomous vehicles?
Phillips: ADAS (advanced driver assistance system) development has created the requirement to be able to write software, push it to the vehicle to test, monitor it, and then update it based on the results. SDV capabilities make it much easier to develop electric vehicles. With the software-defined approach we can develop battery management systems, create new machine learning models and deploy them over-the-air. Vehicle systems will be updated based on data captured by services like AWS IoT FleetWise.
AI: Is there a working example?
Phillips: IoT FleetWise makes it easy for OEMs and fleet operators to map the data from their vehicles. We reduce the amount of data being captured and send it to the cloud to feed into their development process. This service is currently in preview, and we look forward to seeing its application in the near future.
AI: What are the key initiatives of your collaboration with Stellantis?
Phillips: While Stellantis is a pan-Amazon engagement with other business areas like Amazon Alexa, from an AWS perspective we're focused on three big initiatives: creating a cloud-based virtual engineering workbench creating a global vehicle data mesh and upskilling existing and new employees.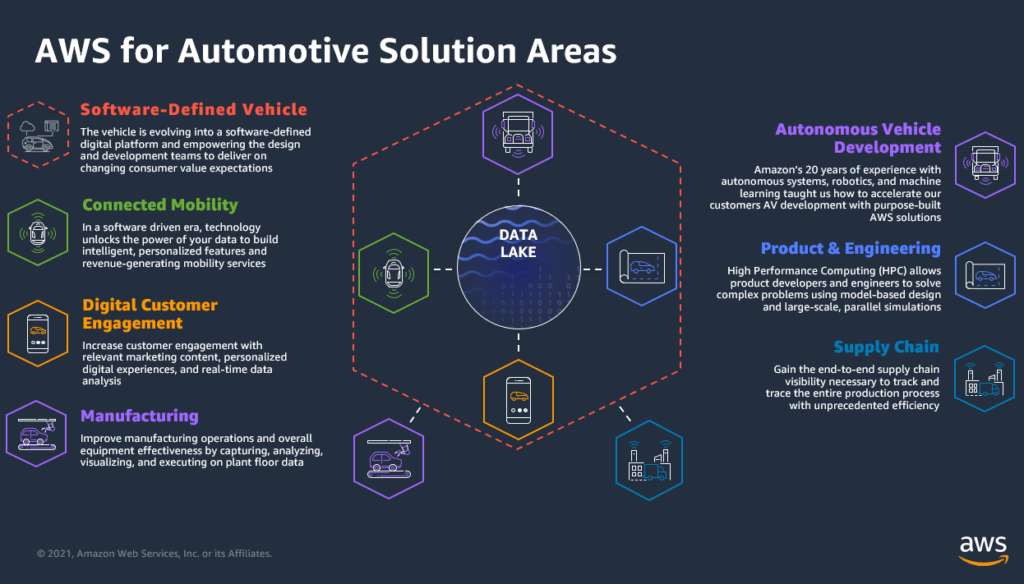 We want to be able to test software easily and quickly and deploy it to vehicles fast. Therefore, we need tooling optimized for the automotive environment that creates an integrated environment for developers. The integrated workbench will enable engineers to develop automated testing, run simulations, and train machine learning models by integrating with our SageMaker service. It will enable them to complete all the verification and validation that is required for the functional safety aspects of the software before it gets deployed into vehicles.
The global vehicle data mesh takes vehicle data and places it in an enterprise data lake containing data from all the different lines of business, including engineering, manufacturing, supply chain, sales, and after sales support. The data can be made available to the entire company. So, it breaks down the silos, enables collaboration, and allows them to more effectively manage the petabytes of data that they capture.
Stellantis has launched Software Academy for the upskilling and reskilling of existing and new employees. As part of this, Stellantis and AWS plan to launch a new global learning curriculum, called the Agile-Auto Software and Data Academy, which will cover software, data and cloud technology. Stellantis will also train developers and engineers by 2024 in AWS-related cloud technologies.
To further speed development activities and reduce time to market for new capabilities, Stellantis and AWS will launch a global network of AWS-powered Innovation Hubs where experts from both companies will innovate using the breadth and depth of AWS cloud services.
AI: Is the data mesh scalable?
Phillips: Absolutely. One of the biggest benefits of the AWS cloud is that we have regions all over the world. Wherever Stellantis has operations they can make the data available to their teams to improve the manufacturing environments in which they are working. Having the data available as close to the teams as possible reduces latency.
Training the engineers is one of the big goals of the program. We are seeing this type of partnership a lot. In 2020, AWS and the BMW Group announced they would jointly develop innovative cloud-enabled solutions and upskill up to 5,000 software-engineers in the latest cloud technologies. The move encompassed several of the BMW Group's central IT systems and databases for functions such as sales, manufacturing, and maintenance. It is helping to increase agility, achieve new insights from data analysis and more quickly innovate new customer experiences.
AI: What's next for AWS?
Phillips: As long as customers are looking to the cloud to aid in the transformation of the automotive industry, asking us to build new services and capabilities and achieve their business goals, we will continue to answer that call.