Ongoing supply chain disruptions and increased complexity are making it tougher for program managers to meet schedules and delivery timelines, according to Actify, Inc, a leading provider of visualization and program management solutions for the automotive supply chain.
This is one of the findings of a first-of-its-kind independent research study which focused on how vehicle component development programs are managed by key suppliers to the automakers.
Conducted by Lifecycle Insights and released in October 2021, some 91% of respondents indicated their company was actively pursuing improvements in program management.
The findings were based on interviews with 183 top tier automotive suppliers across the US, Canada, and the UK. "Our research shows that the complexity of today's automotive programs is skyrocketing. The workload to successfully manage and deliver these programs, despite that increasing complexity, falls heavily on program managers," said Chad Jackson, CEO of Lifecycle Insights and auth
or of the report.
"The study's findings clearly show the shortcomings of manual, ad-hoc practices and cobbled-together IT solutions for program management. Executives are searching for ways to improve. Investing in improvement initiatives, and enabling them with modern, progressive solutions, falls squarely into that effort."
Actify says that program managers have long compensated for the lack of technology with extraordinary effort and dedication. "But it is a precarious situation and a source of vulnerability for suppliers as overburdened teams try to anticipate and avert problems. An increasing volume of programs due to shorter model lifespans, new OEM market entrants and electrification, represent a real threat to operational success.
"At a time when reports of supply-chain disruption and material price volatility fill the headlines, it is crucial that suppliers equip program management with tools that measure up to the task and give suppliers the insight and agility required to communicate and collaborate among all program stakeholders," says the company.
In May 2021 Actify launched a purpose-built automotive program management (APM) software solution. This cloud-based, SaaS (software as a service) currently focuses on gathering and communicating program timeline and status, ensuring version control of designs and specifications, and automating updates to/from other systems including ERP (enterprise resource planning), CRM (customer relationship management), and PLM (product lifestyle management).
The system adapts to each supplier's unique phase/gate program lifecycle. Planned additions will address the program development phase during which suppliers bid for new business, and program analysis which will focus on capturing and transferring lessons learned, says a company release.
Leading automotive suppliers which have adopted Actify's APM include Modineer Company, a supplier of quality metal products to the automotive industry. "Homegrown program management tools represent a vulnerability for the supplier community. Actify's new solution provides suppliers like us with a company-wide environment for all team members engaged in program management across our multiple manufacturing plants to communicate and collaborate more effectively," said Mike Lewandowski, Director of Business Systems, Modineer Company in a media statement.
The Actify APM Suite was released in stages, beginning with the Actify Centro Platform and Actify Program Management, which manages post-award program phases. The suite is delivered as a service based on the Microsoft Azure cloud platform, requiring no specialized customer hardware or IT support.
Automotive Industries (AI) asked Actify CEO Dave Opsahl to share some of the insights from study.
Opsahl: The key findings showed that 65% of program managers are communicating hourly or daily with customers, in addition to suppliers, management and other departments within their own company. Little less than half of them are still inputting data on to physically printed documentation. Around 59% still track program status in physically printed paper forms, and 74% still use spreadsheet software.
There is heavy customization of any tool that is used, including ERP, PLM, PDM, etc.
More than 50% reported significant to moderate problems with a range of issues such as errors being missed in downstream communications, lack of consistent, company-wide processes, and internal systems consuming time and creating dependence on individuals. Some 29% indicated the pandemic had made program execution harder.
AI: Why is APM so relevant today?
Opsahl: The automotive industry is undergoing dramatic, sweeping change. The push to introduce electric vehicle (EV) models is attracting new OEM and supplier entrants, accelerating program tempo, and expanding program volume.
Meanwhile, the pandemic exposed the fragility of global supply chains. The industry is still reeling from the immediate effects, including supply delays and price volatility.
OEMs and suppliers alike are rethinking inventory strategies and questioning how to mitigate risk.
Program managers are operating at their limit, leaving room for errors and issues that turn into disruptions. When those disruptions occur, OEMs become more directly and intimately involved with their suppliers' programs.
Executives looking for ways to mitigate these issues are pursuing program management improvement initiatives. They are supporting investments in processes and technologies that can help program managers execute programs more efficiently.
AI: What are auto programs?
Opsahl: Programs represent the contract relationship between auto OEMs and their suppliers, and are the mechanism used across the industry to manage the outsourced supply chain.
Program managers are the orchestrators that ensure that every department and every downstream supplier is informed and on track to achieve delivery and performance targets.
Yet, despite their critical role, a lack of purpose-built software has forced suppliers to create their own management tools, often relying on off-the-shelf project management tools and spreadsheets.
The introduction of Actify APM comes at a time when the automotive supplier community is facing a ramp in program volume associated with automakers announcing a raft of new EV models.
Accommodating the additional programs puts further stress on program management teams and increases the urgency for an enterprise-class software solution specifically designed for this task.
AI: Why is the role of program manager so critical in the auto manufacturing sector?
Opsahl: Program managers play a pivotal role in enabling top-tier automotive suppliers to satisfy the demands of their OEM customers while simultaneously achieving their c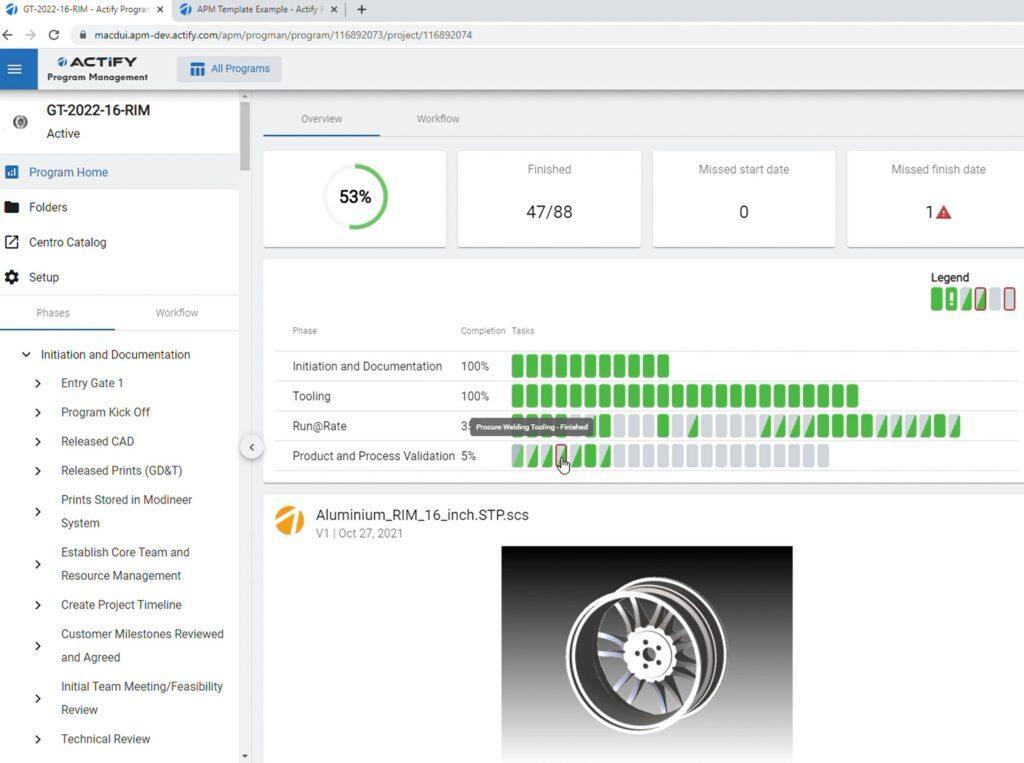 ompanies' performance goals.
They support the bidding process to win new business, and are responsible for coordinating all the departments, locations, and suppliers involved in designing and engineering custom program parts and assemblies.
Program managers do not have an established line-of-business software system, such as ERP, CRM or PLM, to support their work.
Instead, the overwhelming majority use software tools they have developed themselves using off-the-shelf office and project management software
AI: What solutions can Actify offer program managers?
Opsahl: Actify APM is a purpose-built, enterprise class software suite that orchestrates the integration of people and data across the end-to-end automotive program lifecycle. It builds on Actify's expertise in visualization and advanced product data management capabilities to integrate with customers' existing systems and adapt them to support program-based manufacturing.
With Actify APM, customers can greatly improve productivity, customer service and business results while eliminating the burden and risk associated with their homegrown, often spreadsheet-based software tools.
We have an ambitious vision to transform program management.
In speaking with many customers in the automotive industry, it became clear that program management needs a purpose-built solution to drive significantly improved collaboration, efficiency, and productivity throughout the OEM supply program lifecycle.
OEMs negotiate margin-constrained contracts with their suppliers, capping their potential profitability per program.
That makes it essential for suppliers to execute the program and deliver manufactured parts and systems in an optimal fashion. They must meet that profit ceiling to ensure they are successful financially.
Hitting that sweet spot requires incredibly diligent and disciplined program execution.