OEMs are turning to specialist engineering companies with footprints outside of the traditional automotive sector in order to speed up development of electric and autonomous vehicles.
In January 2022, Bangalore (India)-based L&T Technology Services Limited (LTTS) announced that it had signed a US$45 million deal from a US-based, automotive Tier I company.
Under the deal, LTTS has been named as the strategic engineering partner for the auto company's electric vehicle (EV) portfolio. The five-year agreement will see LTTS work with the customer to deliver solutions that leverage its e-mobility technology competence. With this partnership, LTTS also marks its expansion into Eastern Europe. It will hire 300 engineers working from its Krakow, Poland center over the next three years.
LTTS says that since 2021 it has been recognized for its proficiency in the electric, autonomous and connected vehicle (EACV) space by global analysts. LTTS has been lauded as a leader in the Everest Group's Autonomous, Connected, Electric & Shared Mobility Automotive Engineering study. Zinnov Zones ER&D Services Report rated LTTS as a Leader in Telematics and ADAS as well as an overall Leader in the Automotive vertical. ISG Group also rated LTTS as a Leader in Smart Manufacturing Services for Automotive domain.
LTTS is a leading global pure-play engineering services company.
A listed subsidiary of Larsen & Toubro Limited focused on engineering and R&D (ER&D) services, LTTS offers consultancy, design, development and testing services across the product and process development life cycle.
With a customer base of 69 Fortune 500 companies and 57 of the world's top engineering research and development companies. Its clientele is spread across industrial products, medical devices, transportation, telecom and hi-tech, and the process industries.
LTTS also takes pride in its strong industry-academia collaborations. One such collaboration is with UK's Coventry University in 2021 to build and deliver new generation engineering solutions for the automotive and manufacturing sectors. Research undertaken in this partnership will be in the autonomous mobility and vehicle dynamics segments with the aim to strengthen LTTS' technology capabilities for their global customers. In particular, LTTS and Coventry University will collaborate towards developing technologies and deepening skillsets in autonomous driving, EVS and software-defined vehicles.
LTTS is focusing on "six big bets" (Electric Autonomous Connected Vehicles, 5G, Digital Products and AI, Digital Manufacturing, Med Tech and Sustainability). Guided by this vision it is concentrating on both the electronic air control valve segment as well as 5G technology and its applications.
Towards this, LTTS announced a tri-party partnership with Mavenir and NVIDIA, to accelerate adoption of the industry's first converged AI-on-5G. Under the agreement, LTTS will support Mavenir with customization, integration and deployment of AI applications for deployment on NVIDIA's AI-on-5G Platform. LTTS says that as AI is already transforming many industries across the globe, combined with the power of 5G networks, the two technologies will enable powerful new use cases in a quick, secure, and cost-effective manner.
NVIDIA's AI-on-5G platform is a unified platform that brings together developments at the edge to accelerate the digital transformation of enterprises across all industries. 5G provides the underlying connectivity for billions of devices, extending AI's reach to all connected objects and enabling new use cases and new markets. AI-on-5G is supported by a large ecosystem of partners offering a range of GPU-optimized applications and by NVIDIA SDKs, toolkits, and APIs.
Automotive Industries asked Amit Chadha, CEO & Managing Director, L&T Technology Services, how the deal with the US-based Tier I automotive supplier will support the company's vision to develop vehicles of the future.
Chadha: We have been investing in electric, autonomous and connected vehicle (EACV) as part of our six big bets and our engineers have developed several new scalable e-mobility solutions that can accelerate global automotive players' EV development journey. This landmark deal reinforces that our strategic investment is paying off and establishes LTTS' dominant position in the EACV landscape. The Krakow R&D center will serve as a nearshore facility to Western European and North American clientele across verticals.
AI: How important is the electric vehicle space for OEMs?
Chadha: OEMs and Tier 1s face increasing pressure to accelerate EV production to meet the global demand for greener mobility solutions. With the ever-changing EV manufacturing landscape, agility is vital to establish a scalable, reliable, safe, and cost-effective design. At L&T Technology Services, end-to-end e-mobility solutions such as electric powertrain, design and development of high-voltage battery management system, and applications for power electronics are taking center-stage.
Our wide range of e-powertrain systems, technologies, and solutions for varied applications and vehicle platforms – from EV to HEV to PHEV, helping customers get ahead in the e-mobility race. With hands-on experience in power electronics, software development, and state-of-the-art lab for powertrain component testing, we help customers reduce costs and accelerate the EV development journey.
AI: What has LTTS strategy been in the sector?
Chadha: To stay relevant in the marketplace for the coming years, LTTS has identified six strategic investment areas, one of these being EACV. As a pure-play ER&D services company, LTTS is seeing demand acceleration in this area since auto companies are going through rapid transformation.
LTTS is partnering with major players around the globe in the domain of electrification and connected vehicles. We want to highlight and showcase our growth in this ever-growing, innovation-led segment.
AI: What are some of the in-house technologies that have emerged in the EACV sector that you are particularly proud of?
Chadha: We are proud of all our in-house technologies and solutions as they are a testament to our success and growth as a leader in ER&D segment. More recently, we designed & developed the e-VOLTTS platform – a scalable and modular high-efficiency reference platform for EV system and component development that can be easily customized for use in a wide-range of vehicle segments such as passenger vehicles/cars, commercial vehicles, off-highway vehicles, 2/3-wheelers, and so on.
It also serves as a reference design that is both reusable and customizable, thereby enabling faster EV product development across vehicle segments.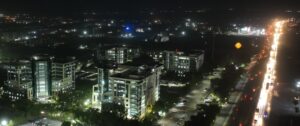 With the launch of e-VOLTTS, LTTS's position is further solidified as a best-fit, one-stop-shop for e-mobility solutions, with expertise spanning from concept-specification-definition–design-build to vehicle level integration.