A new range of safety, comfort and experience-enhancing products were unveiled at the 2023 HARMAN EXPLORE event, which runs annually alongside CES in Las Vegas.
The automotive technology company, a subsidiary of Samsung Electronics, has undergone a major transformation in the past 18 months with the intention to be the leading automotive electronics supplier for the in-cabin user experience by 2030.
To meet this goal, HARMAN has evolved its business model, introducing a new strategy to create road-ready automotive products that can be deployed and make a meaningful impact on today's consumers.
Its aim is to deliver products and maintain a pace of innovation in the cadence of the consumer electronics sector rather than that traditionally seen in the automotive industry.
"The consumerization of automotive has rapidly and drastically changed expectations for what vehicles need to deliver," says Christian Sobottka, President, Automotive at HARMAN International.
"We all expect our vehicles to become an extension of our digital lives and deliver the same connected experiences we enjoy at home, at work, and everywhere in between.
"At HARMAN EXPLORE during CES 2023 we showcased our latest products that are created with consumer experiences in mind and built to withstand the rigor of automotive operation. From leveraging real-time data to improve safety, to infusing consumer electronics innovations into the cabin, we demonstrated how thoughtfully applied technology can transform simple transportation into vehicles that connect our digital and physical lives — today as opposed to years from now."
HARMAN's line-up of new products introduced during HARMAN EXPLORE are road-ready and have demonstrated they deliver compelling in-cabin experiences.
New life-saving features to enhance safety and wellbeing on the road
Ready Care is the industry's first closed-loop interior sensing and tailored intervention product that measures a driver's eye activity, cognitive load and vital signs to determine the level of focus and attention on the road ahead.
Using neuroscience, artificial intelligence and machine learning, Ready Care classifies a driver's behavior into a focused versus distracted state and initiates a personalized in-cabin response to help mitigate dangerous driving situations, such as stress, anxiety, distraction and drowsiness.
Through the September 2022 HARMAN acquisition of CAARESYS, Ready Care now incorporates in-cabin sensors that offer child presence detection (CDP) and contactless measurement of human vitals such as heart rate, breathing rate and inter-beat levels to determine a driver's state of wellbeing. Ready Care can detect occupant life presence in the vehicle after exiting and will enable OEMs to provide an alert or driver notification to inform them of the situation.CDP will become a future requirement of the NCAP government car safety program in automotive.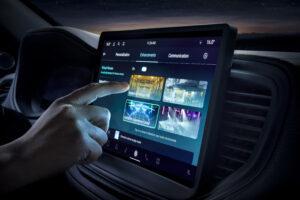 Upgrade in-vehicle audio with new premium features at any time
Ready on Demand is a software platform for delivering branded audio value, feature enhancement, upgrades and monetization opportunities with an easy-to-use interface. Consumers can upgrade and personalize their vehicle with audio features and immersive experiences at any time throughout the life of the vehicle – in the same way they add new apps to their smartphones.
Ready on Demand provides a deeper connection to the consumer through the smooth integration of branded audio DNA in the user interface. Experience packages and feature extensions are available on-demand and can be purchased at any point in the vehicle lifecycle.
It includes a marketplace with an opportunity for partnership synergy with the automaker.
This presents an opportunity for OEMs to create recurring revenue streams after the vehicle sale, for not only the initial purchaser of the vehicle but second and later owners as well. HARMAN has developed an initial set of on-demand experiences including packaged bundles of engaging, carefully selected audio and sound features. Exclusive OEM brand-specific features can be tailored within the packages.
Delivering fast and seamless in-vehicle hardware and software upgrades that equip vehicles for today and tomorrow
Just as a smartphone needs software updates to ensure users are receiving the latest in security features and applications, vehicles need regular updates. Ready Upgrade is a set of fully upgradeable software and hardware products that allow OEMs to perform upgrades throughout the life of the vehicle.
OEM benefits include a full suite of low-code and no-code software development tools to greatly reduce new feature time to market and cost, accelerating the creation of differentiated in-vehicle experiences without having to invest in large software development efforts.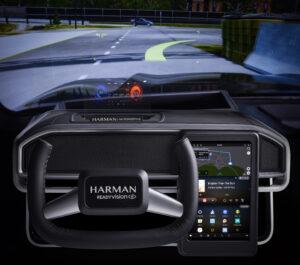 Defined integration interfaces and a complete HMI and software development toolchain, including emulation and build environments, dramatically accelerate the timeline for Digital Cockpit HMI design.
Transforming the driving experience with large field-of-view head-up display, wedgeless design and augmented reality software
Ready Vision provides an immersive audio-visual experience to assist the driver and create a safer and more informed journey with its Augmented Reality (AR) head-up display hardware and AR software products. Ready Vision bridges the physical and digital worlds by displaying intuitive turn-by-turn directions on the windshield. It also uses computer vision and machine learning for 3D object detection to deliver non-intrusive collision warnings, blind spot warnings, lane departure, lane change assist and low speed zone notifications with high precision.
The Ready Vision AR HUD hardware design enables a large field of view, long virtual depth, optimal eye box and high brightness. Together with a compact package volume and wedgeless windshield design, it provides major cost saving for OEMs.
Alongside the AR software AI and machine learning-based framework, it integrates with computer vision to display the right information at the right time, with low latency for real-time 3D object detection. Ready Vision prioritizes the display of relevant objects without obstructing the driver's view.
The AR software integrates data from multiple sensors such as navigation, ADAS and microphones to create timely visual and audio alerts.
Ready Vision incorporates HARMAN's flagship directional and spatial audio to help enhance driver perception and support their ability to respond to threats faster, while enabling them to keep their eyes on the road with intuitive and clear prompts.
Bringing consumer electronics display experiences into the vehicle
Launched with Neo QLED Auto, Ready Display optimizes performance, price and design to fit a wide variety of vehicle needs. Consumers today expect from their vehicles the engaging and advanced visual experiences that they get from smartphones and similar technologies.
Through its Samsung synergies HARMAN applied consumer electronics innovations into Ready Display to deliver a product that meets consumer expectations and OEM development needs with a stunning cost-effective visual experience.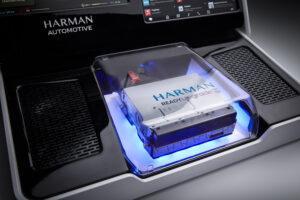 Samsung-powered optics deliver HDR-level performance, higher efficiency and readability under harsh environmental conditions like temperature and sunlight. Ready Display offers reduced thickness and high compatibility with vehicle designs compared to competitor technology.
It also supports the latest system requirements for graphic content processing, and protection, for optimal performance, safety and security.
Enhancing the audio experience inside and outside the vehicle
To meet customer demands for increased awareness of exterior sounds inside the cabin and to enhance communication possibilities for drivers, passengers and emergency vehicles on the road, HARMAN introduced its Sound and Vibration Sensor and External Microphone.
The completely sealed piezo-based Sound and Vibration Sensor can be invisibly integrated into a vehicle's exterior while the External Microphone is designed to withstand environmental elements and can be configured as a single or multi-element array.
HARMAN's latest line-up of road-ready products delivering consumer experiences at an automotive grade are ready to be integrated by automakers today. For more information, visit https://car.harman.com/
https://www.linkedin.com/company/harman-international/