The Electric Vehicle (EV) industry's mission is to enable a pathway to a decarbonized, sustainable, mobility. In previous blogs, we have discussed the caveat that the additional electricity demand could come from a grid that still relies on fossil fuel. We have also detailed the anticipated challenges in scaling-up charging stations, the need for visibility into rapid technology shifts and regulations that could impact R&D investment, and the need for global strategic orientation among the industry players. In this blog, we will be focusing on EV battery recycling, an activity prompted by the limited reserves of rare minerals needed for battery fabrication.
The relatively recent expansion of EV was triggered by the adoption of Lithium-Ion batteries. This technological advancement enabled the storage of more energy per weight and volume than previous battery technologies, making it possible to extend power and range to a more acceptable level for customers.
Second Life of Batteries
We are now entering the phase where the first mass-produced EV Lithium-Ion batteries are approaching the end of their useful life. A new industry is emerging in the repurposing and recycling of these old batteries, from second life usage of diminished capacity batteries for residential energy storage or electric boats, for instance. Market projections indicate that strong growth is anticipated till 2030, led by Asia/China, followed by the EU and the US.
Market Drivers for EV Battery Recycling (1) – Resource Constraints
At the current projected growth rate for EV and its share of the total mix, the stress on "accessible" rare materials could derail the EV industry's promise of sustainable mobility. Ongoing monitoring of accessible reserve levels per mineral, geopolitical tensions in areas where these minerals are accessible, and the demand curve, can help make educated projections. This can help develop and implement strategies on raw material prices, partnerships, and also anticipate an industry growth rate.  The potential for stress on accessible rare minerals also put the spotlight on battery recycling.
Recycling or reusing key minerals like lithium, cobalt and nickel will be important in such a resource-constrained environment, not to mention the associated environmental benefits and focus it would bring to circular economy concepts. These minerals are expected to be produced as lithium carbonate, cobalt sulfate and nickel sulfate from the recycling process.
In addition, the EV industry should also be prepared for unexpected price hikes such as the ones in 2021-2022. Commodity price analytics such as those from Vertaeon are also a must-have.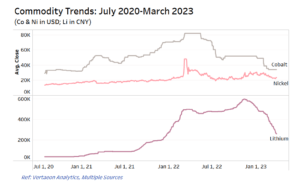 For Nickel, we observed a large price hike in late 2021, followed by an even bigger price hike following the Ukraine invasion. The price of Cobalt was also influenced by this geopolitical event. The price of Lithium has also been rapidly increasing since mid-2021. "There simply is not enough lithium to supply transport and energy storage demand for lithium-ion (Li-ion) batteries as the big switch away from fossil fuels accelerates," claims a report from Innovation News Network. As of February 2023, these commodities have begun to decrease in price.
Market Drivers for EV Battery Recycling (2) – Government Support and Requirements
As part of the Infrastructure bill, the US Department of Energy (DOE, US) announced $60 million to support second-life applications for batteries used to power EVs as well as new processes for recycling materials back into the battery supply chain.
The Strategic EV Management Act, meant to expand the reuse and recycling of end-of-life EV batteries in federal fleet vehicles, passed the U.S. Senate in December 2022 as part of the annual defense budget. The bill calls for federal agencies such as the General Services Administration and the Office of Management and Budget to collaborate with the U.S. EPA, manufacturers and recyclers to create a strategic plan for reusing and recycling EV batteries.
In December 2022, the EU Council and the European Commission reached a provisional agreement on a proposal to strengthen sustainability rules both for batteries and waste batteries. The agreement calls for mandatory minimum levels of recycled content for industrial, SLI batteries and EV batteries. These are initially set at 16% for cobalt, 85% for lead, 6% for lithium and 6% for nickel.
There remain several challenges …….
There may only be a limited number of batteries available for recycling in the next five-to-ten years as the EV market continues to grow the fleet as well as penetrate mainstream consumer markets. Another constraint, not necessarily negative, is the life of the battery itself which can be over 8-10 years.
A viable, sustainable and scalable technology to extract a reasonable fraction of these rare minerals for reuse in new EV batteries.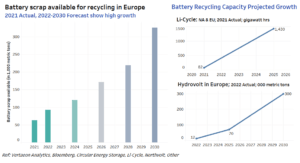 The high costs of setting up recycling plants are also expected to slow down market growth. Here, the aforementioned lag in battery availability will dampen profits.
Process safety for recycling and transportation involving high temperatures and toxic chemicals presents another major risk and is a challenge to be addressed.
The need for a web of partnerships to succeed: For example, one of the leading players, Li-Cycle, has partnerships with OEMS such as GM, battery suppliers like LG and Ultium Cell, chemical companies such as Univer, and mining businesses such as Glencore.
Poor financials: many of the players in this market need high capital expenses for a number of years with low or even negative margins. Who will survive this in the long-term? Key players include Li-Cycle, American Battery Technology Company, Freyr Battery, RecycLiCo Battery, NeoMetals, and Aqua Metals.
Regulations are also being developed to consider ease of recycling in new battery designs. Standardization of battery design, programs for recycling, disposal constraints and waste management should be considered in developing efficiencies in recycling.
Yield: Much like with plastic bottle recycling, it is unrealistic to expect that 100% of rare minerals used for the manufacturing of EV batteries will be extracted and reused indefinitely to produce new batteries… far from it.
In conclusion:
At Vertaeon, we know far too well that hope is not a strategy. It is not what our customers are expecting when they discuss enterprise or supply chain risks, and strategic risk mitigation. Our multi-factor, customizable data analytics and SaaS tool will give you valuable insights to proactively identify, anticipate and manage risks linked to fast moving, global industries and value chains, like EV and EV Batteries in this instance.
Authors: Rekha Menon-Varma is Managing Partner at Vertaeon LLC, a risk and strategy analytics firm. She brings extensive expertise in corporate strategy, enterprise risk and digital transformation to the firm. David Chouvelon is business development consultant at Vertaeon LLC, with expertise in market and business management. Both have 20+ years of experience each in automotive and industrial value chains.
Disclaimer:
The content in this white paper is intended for informational purposes only. Vertaeon provides no endorsement and makes no representations as to accuracy, completeness, or validity of any information or content on, distributed through or downloaded, or accessed for this article. All rights and credit go to original content owners from various sources. No copyright infringement is intended. Vertaeon will not be liable for any errors, omissions, or delays in this information or any losses, injuries, or damages arising from its display or use. All information is provided on an as-is basis without any obligation to make improvements or to correct errors or omissions. Vertaeon makes no guarantees or promises regarding the sources and does not necessarily endorse or approve of their content. You may contact Vertaeon at https://www.vertaeon.com with any questions.