Hot summer months can be great for the leisure industry and for spending time outdoors, but not so good for those working on production lines.
Automotive Industries (AI) asked Justin Morris – Director, Strategic Sales BAF (Big Ass Fans), how weather affects productivity.
Morris: Weather has an impact on productivity, year-round in some cases, but hot weather can have the most effect, with heat stress related illnesses, and even fatalities.
In some cases, lines have to be shut down, so weather definitely affects productivity, even in some climate-controlled facilities.
AI: How can BAF help increase productivity during the hotter spring/summer months?
Morris: It goes back to our experience in the industry, especially the automotive industry. It starts with a design solution from our factory direct sales team. We're unique in that we're not a distributor of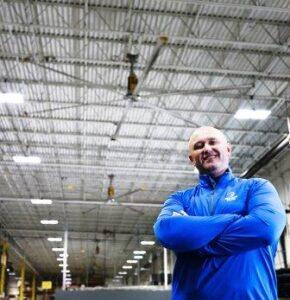 a whole catalogue of stuff.
We have a factory direct model, where we engineer, design, manufacture, sell, and service all our fans.
That allows us to be experts in a very niche window. We analyze the heat-related conditions in the building to understand how they are affecting people and productivity. The design of the building, the equipment being used, are all taken into consideration when designing a solution.
Our awesome team is a world leader in our field. When someone calls and says, "I need a fan," we start by understanding their needs. You do not want to be blowing more heat onto the workers, for example. Our objective is to help mitigate heat-related stress during the summer months.
AI: What solutions do you offer?
Morris: We offer a full turnkey solution – whether you want to cool down people or parts.
This is important because a plant manager or process engineer doesn't have time to deal with a fan supplier, mechanical and electrical contractors, a building management system integrator, and a fire alarm contractor.
That's five different people. We provide one point of contact. They issue a single PO, and we take care of everything. We have an awesome project management team, who provides ongoing support.
AI: What is your range of products?
Morris: We offer overhead fans from 52 inches all the way up to 30 feet. But primarily, for industrial settings, we're installing somewhere from 12 to 24-foot diameter fans. We also have a whole line of directional fans from 18 inches to eight feet.
These can be ground mounted, column mounted, or ceiling mounted. We don't do a lot of ground mounts in industrial or automotive manufacturing plants because they don't want cords and they don't want to take up the real estate on the ground.
So, we usually mount the fans on columns or the ceiling.
It is important to be able to provide both directional and overhead fans, to cater for the different approaches of OEMs. Some facilities have 40-foot ceilings, which allow us to put overhead Big Ass Fans everywhere.
But when you transition to an assembly line, in some cases it is really hard to use overhead fans effectively.
So, we've got a directional option with our AirEye® fan, which provides an effective, efficient, directional cooling solution. Again, that is why it is important to have boots on the ground, to be in front of the customer to understand their challenges and to come up with a solution.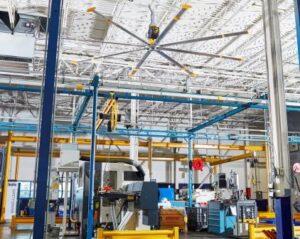 AI: What about reducing energy costs?
Morris: Fans can provide a year-round solution. Some of the hottest places in summer can also be the coldest in winter.
For that we offer winter destratification which uses fans in the roof space to bring wasted warm air to ground level. Basically, we recirculate the mechanical heat from the ceiling down to the floor, without creating a draft. That can result in about a 30% reduction in heating costs.
In summer, even in air-conditioned facilities, we can provide 4-10 degrees of cooling. The DoD estimates that every degree of you increase your thermostat saves three to 6% on energy costs. If you extrapolate that out over a million square feet, three to 6% is a significant saving.
We also find that facilities traditionally have directional fans everywhere, including small personal fans. Instead of having 20 x 30-inch fans servicing an area, we may be able to install a one 24-foot fan. In addition to reducing energy consumption, you add some intelligence such as scheduling.
For smaller areas, we have the AirEye fan of 20 to 36-inch directional fans. AirEye produces 50% more airflow with 50% greater efficiency than typical high-speed directional fans. Its permanent-magnet EC motor runs much cooler than standard induction motors, wasting no energy and ensuring a longer motor life.
The AirEye fan features infinite variable speed. You have infinite speed control, instead of just one or two settings.
In addition, using an infrared motion sensor, it turns on when people are working and shuts off to conserve energy when there's no one there to cool. With an effective range of up to 40 ft (2.2 m), its adjustable lock knob lets you aim the sensor where airflow is needed most.
AI: How do you ensure safety?
Morris: It starts with having boots on the ground, a sales rep looking at and understanding the needs. We look at factors such as the heat source and obstructions in the space. Then we are the only company in the world to have a 45,000-foot R&D lab where we can test a product to see how's it going to survive when a fork truck hits it with a rack full of fenders.
We know that the fan is going to get hit at some point, no matter what you do.
Our safety mechanisms have double and triple redundancies from the tip of the blade all the way back to the hub.
We only use durable Grade 8 hardware. It costs more to do that, but when you're putting on a 24-foot fan in your ceiling that's going to turn 24/7 365, it needs to be built to last.
Our mounts are over-engineered because we want them to last, whatever the conditions.
If you look at the evolution of our fans, the design is almost linear with the automotive industry. Compare a 1995 car with the same model in 2023 and you will see that, although it has the same name, it has very different safety features.
AI: How do you reduce downtime?
Morris: We call ourselves "Big Ass Fans," which is a bit tongue-in-cheek, but there is a crazy amount of science and engineering in our products, which is what the big OEMs that we work with on a daily basis appreciate so much. We are the only fan company where the motor can be swapped out, which was introduced in 2010.
A weak link in all fans is typically the motor. If a motor goes bad, you have to replace the entire fan. So, imagine that it's middle of August, in Missouri, and you have a fan servicing 20 people on a production line and the motor goes out.
In the past you had to replace the entire unit with a fan that has to be assembled and shipped to the plant. You would be looking at a two-week turnaround, which is not a good position to be in. And you've got to shut that line down for four to eight hours to replace the fan.
That was until we launched the world's first fan with an external motor. So now if a motor goes bad, we can change it out during the lunch break or shift change. It could take longer to get the lift in place than to swap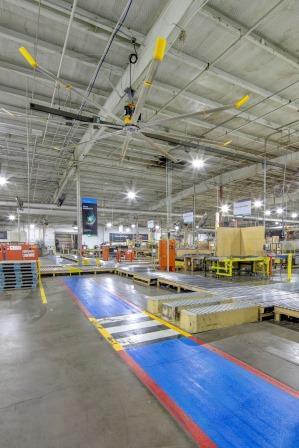 out the motor. So now you go from a downtime of two weeks to 30 minutes.
For our larger applications, we keep motors in stock. We backup all of our parts with a 15 year 100% parts warranty.
AI: Are advanced control options included in your products?
Morris: All of our fans can be integrated into a building management system. You have the same control platform for overhead and directional fans. You can customize your fan runtime and speeds adjustments based on the temperature within the building.
There is a primary fan controller for completely automated fan operation. SmartSense eliminates human error and the hassle of fan operation by automatically matching the speed of your Big Ass Fans to seasonal conditions. It features three user modes — winter, summer, and manual.
Then we offer a wall-mounted digital keypad auxiliary controller with touch controls and an LED display to control the fan's speed, and programming. In the unlikely event that there's a problem, the wall controller is equipped with a simple diagnostic program to identify, troubleshoot, and reprogram faults in the system.
Our control platform features a simple plug and play interface with building automation systems. An unlimited number of fans can be daisy chained together and operated individually or as a group.
We have a plug and play interface with the BMS:
Multiple fan control from a single adaptor node for easy installation and integration
Factory programmed to automatically detect Big Ass Fans equipment from Modbus inputs on the fan.
Auto-mapping of fan control nodes to BACnet points
Supported for either BACnet IP or MS/TP in one adaptor