An exciting wave of innovation challenges has been engulfing the motor industry since leading OEMs redefined their business models from being suppliers of new vehicles to providers of sustainability mobility solutions.
Emission-reduction legislation is also forcing companies to find ways of staying profitable while switching to safer and more connected electric vehicles, with huge energy being invested in battery technology.
Automotive Industries (AI) spoke to Luc Dusart – Global Marketing Manager e-Mobility and Dr. Esther Quintanilla, Global Strategic Mobility Marketing Leader at Dow.
AI: Why is thermal management so important?
Dusart: Thermal runaway aside, batteries don't like too much heat. The battery operating temperature needs to be kept in the region of 60 degrees C.
Whether we are talking about  –  DOWSIL™ or VORATRON™ it is really important that those materials take away the heat and keep the battery run gently at 60 C.
The impact is a much longer lifetime of the battery cell, which extends the battery pack lifespan, and that is important in terms of sustainability. Ultimately, it also influences the total cost of the battery. There are significant savings if a battery lasts eight years versus six.
AI: How does Dow help OEMs to meet these requirements?
Dusart: The Company is supporting the mobility and transportation industry's journey to become more connected, autonomous, shared, digital and electric with lower carbon emissions. MobilityScience™ was created to address the evolving needs of the industry through material science while focusing on enhanced customer experience.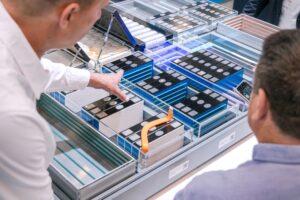 Quintanilla: Dow's latest material science solution for battery thermal management, DOWSIL™ TC-5533 Gap Filler is a two-part (1:1) soft thermally conductive silicone material that dissipates heat and relieves stress between the battery modules and the cooling plate. Additional performance benefits include controlled siloxane volatility, long-term performance stability during temperature and humidity cycling, low assembly/disassembly forces and a wide application process range with low abrasion.
Dow also introduced its best-in-class portfolio of VORATRON™ adhesives, gap filler, pottants, and battery enclosures solutions for EV batteries. VORATRONTM systems offer a wide range of superior electric vehicle battery pack assembly adhesives and gap fillers for processing efficiency benefits and ease of customization.
These materials also support advanced battery packs with high strength thermally conductive adhesives, high speed assembly with low squeeze force gap fillers, and lightweight and high productivity with engineered potting resins. In addition, they can be designed for sustainability via  formulation know how that minimizes the material loss during the battery assembly process with the possibility of unique circular content, such as waste from the mobility industry.
AI: What about thermal runaway?
Dusart: You have a lot of causes for thermal runaway, but when it happens, the heat of the battery goes very, very high.
So, you need to have materials that will resist temperatures up to 1,000 degrees C. What is important is that that heat does not propagate to the surrounding cells. Our solutions will keep the heat localized.
Dow's silicones portfolio offers a combination of properties to help mitigate thermal propagation including low flammability, ceramification rather than combustion, low thermal conductivity, and tailored compressibility. From encapsulants for cylindrical cell configurations and silicone foam sheets for pouch and prismatic designs, to gaskets and fire-resistant rubbers for sealing and added fire protection, Dow's range of silicone materials can enable long-term operational stability and meet the demands of different battery design and assembly applications. Whatever the customer needs we can provide.
Quintanilla: The design of cells is a very dynamic space. We don't decide on the configuration. It is up to the OEMs. So, it is very important for us to have a broad portfolio of solutions for the cylindrical, prismat
ic and pouch designs.
AI: What about cooling solution for engine and transmission control units?
Dusart: There are different needs for the battery pack , inverter and onboard chargers. When you talk about some of the other power electronic devices, those are getting smaller, so you have more energy in a smaller volume. So, you have a lot of heat generation.
We have a lot of very different material solutions, but for us reliability is absolutely key. What is also very important is how we work with equipment vendors to help them dispense the right material in the right space.
Those solutions are already proven and widely used in the market. So, our focus is on optimizing the cost structure or giving the material a much higher thermal conductivity is where it is needed.
AI: How do you help minimize material loss during battery construction?
Quintanilla: One of our key value propositions has been the minimization of material loss, in order to boost productivity and reduce costs when the battery components are assembled, while contributing to sustainability. In 2022 Dow received with VORATRON™ a silver medal in the Enhanced Performance category at the Edison Awards™.
One of the key value propositions has been minimizing material loss in collaboration and the implementation with the machine suppliers. We wanted to make sure that the processability is better than the competition, very easy to load in the machine and available globally to different OEMs and Tiers.
AI: How are you addressing sustainability?
Dusart: Sustainability is a key pillar of discussion in just about every meeting we have with customers. Every single project we start now needs to have sustainability component.
Quintanilla: We follow closely all the requirements from the European Green Deal. By combining the strengths and technology of Dow we are able to create a circular solution and even a closed loop. The strength of MobilityScience™  is to partner with industry key players from product ideation to end of life.
AI: Are there synergies between existing automotive technologies and the new requirements of electric vehicles?
Quintanilla: With VORATRON™ and DOWSIL™ solutions Dow are market leaders in vehicle vibration absorption and acoustic technology. This know-how is being applied in EV battery applications. We are able to fine-tune elements such as the cell structure through our expertise in working with the materials and the machine suppliers to optimize factors such as curing time and thermal insulation.
I do not think that any material supplier is able to match our portfolio.
AI: Where to next for Dow?
Dusart: Clearly, the trend towards powertrain electrification is accelerating. Dow has selected mobility as one of its priority segments. Our focus will be on the sustainability aspects of connectivity, powertrain evolution and electrification. We are developing materials which will combine a number of properties, including vibration and thermal conductivity, in order to reduce costs and enable the successful migration of the powertrain.
Circularity, in which we have already had good successes, is also going to be an absolutely dominant theme in Europe.
It will force producers outside of Europe to focus even more on sustainability and reducing waste.
Quintanilla: No other market is evolving as fast as the mobility industry. We want to be at the design table, to evolve as the industry is evolving super fast.
Dow MobilityScience™ should be the partner of choice. So, we need to be sure that we have the right pipeline to be ready to create the solutions required as the market evolves.
I see it as a once in a lifetime opportunity to be working at the design table together with OEMs and Tier 1s to provide the material science needed to develop more reliable, safer and more sustainable battery assembly solutions.  We also need to be fully carbon neutral to support the industry's goals.
With mobility identified as one of the four critical pillars for Dow, we have the specialists in mobility science and the resources to meet the challenges.