A strategic decision to rapidly grow its portfolio of components for electric and hybrid vehicles is paying off for US-based automotive supplier BorgWarner. The company believes it is on track to achieve approximately US$4.3 billion of EV revenue by 2025.
BorgWarner reported in its results for the second quarter of 2023 that it expects its eProduct sales for the year to be between $2.3 billion and $2.4 billion.
Automotive Industries (AI) spoke to Dr. Paul Farrell, Chief Strategy Officer at BorgWarner and Harry Husted, Chief Technology Officer.
AI: What progress has been made in the eMobility transformation of BorgWarner since the Charging Forward strategy was launched in March 2021?
Farrell: We have made a lot of progress. There were three main elements to the strategy. One was organic growth, which was the leveraging of organic development and the acquisitions made prior to the announcement of the Charging Forward Strategy.
Our target was to generate around two and a half billion dollars in organic EV revenue by 2025. At this point, we are at about three billion. So, we feel good about exceeding our original target.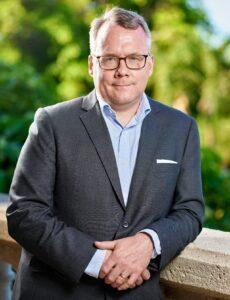 The second element was mergers and acquisitions. Since the launch of the Charging Forward  Strategy, we have made incremental acquisitions. Our target was an EV turnover of two billion, and we are at about 1.3. So, we have made good progress in the two years since Charging Forward was originally announced, with a little bit more work to do.
The third element was the disposition of combustion assets. The goal was three to four billion. With the spin-off of PHINIA in July 2023 and the sale of our Water Valley facility in January 2022, we realized three and a half billion. So, the first and the third elements are complete. And we are making good progress on the second element.
AI: Are you moving out of combustion entirely?
Farrell: No. We are not exiting combustion. It is about balancing our exposure. Combustion, or Foundational products as we refer to them, is a big and important part of our business. For this year, we expect what we refer to as eProducts, which are products for EVs or products for hybrids that could go into EVs, to account for around 17% of our revenue. Everything else would be Foundational.
AI: What are your updated company goals for Charging Forward 2027?
Farrell: Building on our success with Charging Forward, we recently extended it with Charging Forward 2027, which also has three elements. The first is  growth in eProducts. We are targeting more than $10 billion in eProduct sales by 2027. The second element pertains to eProduct profitability. We have made significant investments in electrification technology, and they need to generate a return.
We are targeting breakeven on eProducts by the end of this year, with a goal of being at approximately 7% adjusted operating income by 2027.
Finally, the third element of Charging Forward 2027 is to maximize the value of our Foundational products by maintaining double-digit margins on these products through 2027.
AI: Which are the main products that will generate this revenue?
Farrell: We expect strong growth
across our eProduct portfolio. A few key products driving that growth include inverters, electric motors, high-voltage coolant heaters and battery packs for commercial vehicles.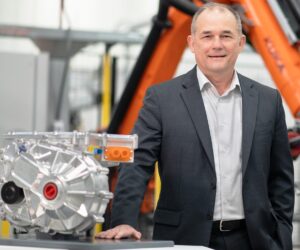 We expect to sell more than 6M inverters in 2027, with estimated sales of approximately $3.5 billion. Similarly, we expect to sell more than three million electric motors in 2027, with estimated sales of approximately $1.3 billion. And in 2027, we expect CV battery pack sales of approximately $1.3 billion with an additional $0.6 billion in estimated sales from coolant heaters, where we expect to sell roughly seven million units.
AI: Is there any crossover from your foundational product lines?
Husted: We have a lot of expertise in thermal management in general through our internal combustion portfolio. An example is fans. We have been providing big engine-driven fans for commercial vehicles. Now, the fans are electrically driven.
In the drive train space, we are leveraging traditional products like torque vectoring that plug and play into electric vehicles.
We are also big in transfer cases and have used that knowledge to develop our integrated drive module (iDM), which combines the power electronics, electric motor and mechanical components into a single drive unit.
AI: How are these investments benefiting your auto industry customers?
Farrell: Automotive OEMs have a lot on their plates, with the big transformation happening in their markets. We are here to help them with their transformation.
We can deliver best-of-breed components, which include power electronics, electric motors, fully integrated drive modules, thermal management systems, battery packs, as well as other eProducts offerings.
Our broad portfolio means we are able to deliver a suite of solutions based on the needs of our OEM customers.
AI: What about hydrogen fuel cell technology?
Husted: A hydrogen fuel cell system has much of the same propulsion componentry that you find in an electric vehicle, such as inverters, batteries and electric drive units. We are well positioned to support companies developing hydrogen fuel cell power trains.
AI: What new products did you unveil at IAA Mobility?
Farrell: We are using our presence at IAA Mobility to showcase our eProduct portfolio. New product introductions include eCoolers, high voltage air heaters and a high voltage box.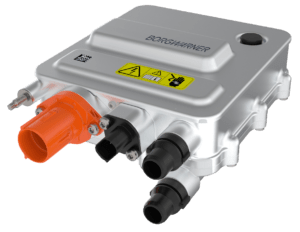 Husted: What is important about the high voltage box is that it is a compact all-in-one power electronics unit that combines multiple power electronics components into the same package.
It will help save space and cost across a range of electrified vehicles. This meets a need for smaller packaging through the combination of the on-board charger and DC/DC converter into a single unit.
The nice thing about the high voltage air heater is that it is quick to create heat in cold weather situations where you want to get heat to the windshield and passengers quickly. You are taking battery energy and turning it directly into heated air without going through a liquid loop, which adds time.
AI: How does it work?
Husted: It has small positive temperature coefficient stones that heat up when you run an electrical current through them.
A heat exchanger touching those elements warms up the air blowing through it, so you go from battery energy to heat very quickly and efficiently, which is important in a very cold environment where you need to heat the cabin and windshield as fast as possible. Another advantage is that you help warm up the battery when you start pulling current from it.
AI: What makes heat such an issue in EVs?
Husted:  The internal combustion engine produces significant waste heat, which means that you have as much hot coolant as you want to warm the air. Because they are so efficient, EV drivetrains do not produce as much waste heat. For that, you need to pull some energy out of the battery pack.
That is what the air heater does. There is a fine balance between cabin comfort and range, but windshields are a safety concern. You need to defrost and defog them quickly.