Thermal management of battery arrays in electric vehicles has sparked the development of a new generation of materials to provide insulation and cooling.
One of the technologies being explored at present is battery liquid immersion cooling. Heat is dissipated by a dielectric fluid which is in direct contact with the cells, busbars, and electrodes inside the battery enclosure.
Automotive Industries (AI) asked Boris Traber, Global Director Advanced Material Development at Freudenberg Sealing Technologies, how new polymers are being developed for battery immersion cooling.
Traber: Elastomeric sealing materials are our core business. We constantly screen new markets and identify new requirements to place on the materials. As the next step we benchmark these new requirements with our current portfolio to evaluate if a new material development would be necessary.
We started to benchmark our portfolio with the new fluids for battery immersion cooling three to four years ago. The outcome was surprising: While some of fluids showed a reasonable compatibility with our sealing materials, some of the materials exhibited very unusual behavior, for which we did not have an immediate answer.
Our focus was on sealing compatibility, but also interlayer membranes for compression elements immersed in battery cooling fluids became relevant.
AI: How did you determine how polymer materials used in seals and other components behave inside the cooling fluids?
Traber: Our standard approach to testing is to immerse samples of materials and then perform mechanical testing. After that, we measure volumes as well changes in mechanical values, which includes a compression test to establish the setting behavior of the seals.
Typically, this testing sequence would take over 336 hours of immersion. This gives us a pretty good indication of the performance of the material.
We started with a fluid manufacturer which contacted us to benchmark our standard sealing systems and test them against the fluids they provided. This worked well.
We have tested fluids for immersion cooling for eight other manufacturers. Our collaboration is protected by non-disclosure agreements, so we cannot divulge more details.
The manufacturers send us their fluids, which we run through our liquid immersion program to establish compatibility. We then send the fluid back to let them do their own analysis.
AI: What was the goal when developing your new elastomer which is good at conducting heat and providing electrical isolation?
Traber: We were looking at heat transfer materials for e-mobility applications where the customer wants to connect a heat source with a heat sink, to take heat out of the system.
The major advantage of the material which we have developed is in the processing in conjunction with a good thermal conductivity.
It can be formed through injection molding and can be bonded directly to several thermoplastic materials to which it is normally hard to adhere. We get adhesion between both systems in a mass production process.
The material can be formed into complex shapes which meet UL94. This means the material is flame retardant.
This makes it very attractive for many applications because of the freedom of design, especially where it´s bonded directly to a housing or other components.
AI:  How do you evaluate the compatibility of rubber elastomers and thermal plastics in lithium-ion batteries?
Traber: Our evaluation of materials that are in contact with lithium-ion battery fluid starts with a prescreening procedure which determines whether we are on track. We start the benchmark by immersing only in solvents which are comparable with acetone.
For materials that look promising we have developed a test procedure in our laboratory in Plymouth, MI, United States. In this lab, we are able to test materials such as rubbers and thermoplastics at a high level to meet customer needs.
We standardize on one reference electrolyte to make the tests comparable.
The test identifies changes in mechanical properties and swelling or shrinking. In addition to Plymouth, at our lab in Weinheim, Germany, we test resistance to permeation by water and oxygen, which may affect the performance of the electrolyte.
So, it is not only important that the materials need to be resistant to the electrolyte and have low swelling, but they have to show low permeability.
In addition, in order to have a full picture of the performance of the materials, we have a cooperation partnership agreement with a German university. The materials are sent to the institute to extract absorbed material after immersion in a standard electrolyte.
The electrolyte is then used in a battery, which enables us to assess the decrease in performance over the lifetime of the battery.
During this test we can also determine whether any problems could arise with leaks or the lifetime of the products using these materials. Using this method we have identified a substantial number of materials suitable for contact with Li-ion electrolytes.
AI: How do you reduce the possibility of battery propagation?
Traber: Specially developed heat shields (cell spacer elements) for lithium-ion battery systems prevent the heat from "propagating" to neighboring cells when single cells are in abuse mode. Systems are needed which insulate the cells from each other while providing defined compression throughout the battery life.
Our approach is to separate the thermal insulation from the mechanical demands of the system. The thermal insulation is provided by an aerogel layer which is paired with a shaped silicone layer. The silicone sheet can compensate breathing (charging) and swelling (aging) of the cell according to the customer requirements.
With our Freudenberg Sealing Technologies solution, we can achieve both functions very well.
The advantage of using these heat shield material combinations is that they can be quickly optimized to various customer demands. Even more, we are optimistic that they will hit the required lifetime, which is above 1,000 battery charging cycles.
AI: What are the key characteristics of this kind of shield?
Traber: For sure, the heat shield has to fulfill the already mentioned three key characteristics: it has to insulate against heat passing from one defect to a still working cell – measured with a heat flow meter and a hot plate tester.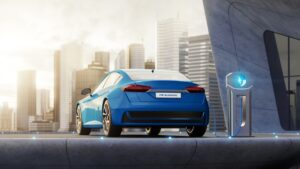 Besides this, it must protect intact cells against direct fire attack – measured by a special torch test – and of course it hast to provide the mechanical compensation due to swelling – measured with a cycle tester.
All of these tests have been developed by Freudenberg Sealing Technologies and are good tools to develop the heat shield product at first glance.
AI: Does the new heat shield have a major impact on the required installation space?
Traber: The tendency in the market is to continually reduce the installation space. The smaller the inter cell layers, the more space for energy cells. We can provide solutions in the two-to-three-millimeter installation space, and we are looking at how to optimize the use of the material to go smaller.
Here we consider also alternative solutions in further evolving our approach.
AI: What is next for Freudenberg Sealing Technologies?
Traber: Through the development of heat shields we have gained so much expertise and experience in their design and understanding the hysteresis of the materials that we will continue refining the compression elements, also for use in immersion cooling.
We will also investigate the development of compression elements for solid state batteries.
In addition, we have successfully developed flame barrier materials as 2D mats, as well as 3D molded parts. Over the next few years we will roll out these products because we can clearly see the need for new materials to support the evolution of the electric vehicle.
With our special grades of flame resistant thermoplasts we enter a new level of products.