Did you see that BMW plans to utilise blockchain technology to better optimise its daily operations and build out a new Web3-based loyalty programme?
With this in mind, Automotive Industries spoke with Li Jun, an expert in building real-world blockchain use cases and the founder of Ontology — the blockchain bringing trust, privacy, and security to Web3 to discuss the future of blockchain within motoring.
Industry leaders such as Mercedes manufacturer Daimler, Alpha Romeo, and Ferrari are now also exploring Web3 services, while the value of in-vehicle payment services set to grow to $5.04 billion in 2026.
BMW recently introduced in-car parking payments to some of its vehicles too, making it clear that Web3 is ready to transform the motoring industry for the better. For Li Jun, tokenized payments have the potential to truly transform the driving experience, offering drivers increased trust, security, and convenience.
Previously, Ontology partnered with Mercedes manufacturer Daimler to develop Welcome Home, a decentralised in-car personalisation and management solution. We discussed with Li Jun: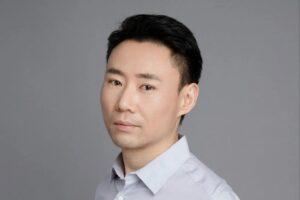 Li Jun, Founder of the Ontology blockchain
How Welcome Home leverages Ontology's bespoke digital identity and decentralized payment solutions, such as ONTO Wallet and ONT ID, to allow users to make in-vehicle payments for things such as parking, insurance, and more through a personalised identity management system.
Why tokenized payments offer drivers the highest level of trust, privacy, and security when it comes to in-vehicle payments, and how Ontology and Daimler's Welcome Home solution solves these challenges — challenges that are also being explored by the likes of BMW.
A step by step guide to how in-vehicle payments will transform the driving experience, and how tokenized payment solutions can make this process easier.
Automotive Industries: How are blockchain technologies currently being employed within the motoring industry?
Jun: Blockchain technology certainly has a large role to play in the motoring industry. We've observed a number of automotive giants rolling out Web3-based services in the past year, including Alpha Romeo and Mercedes manufacturer Daimler. These services ranged from improving operational efficiencies and supply chain management to enhancing brand loyalty programs. One particular case that has stood out to me is BMW's development of a Web3-based customer loyalty program, which aims to incentivize customers with blockchain-based rewards. Web3 and blockchain technologies have immense potential to create more immersive loyalty programs that bring brand communities together, so it's great to see this being applied to something as mainstream as the auto industry.
In 2020, we partnered with Daimler to transform the experience of drivers all over the world by creating 'Welcome Home', a self-sovereign in-car personalization and management solution. This is just one use case for blockchain technology, and with the upward trajectory in blockchain mainstream utility, it certainly won't be the last.
Automotive Industries: How do digital identity and decentralized payment solutions enable users to carry out in-vehicle payments for things such as parking, insurance, etc?
Jun: For brands introducing in-vehicle payments into their cars, digital identities play a large part in making the project possible. Given the ever-present risk of data hacks and the problems associated with verifying a driver's identity, without acquiring any forms of ID, it is important that brands prioritize data privacy and ease-of-use when implementing in-vehicle payments. Digital identities and decentralized payment solutions help to facilitate this.
Using blockchain and cryptographic technology, decentralized identities (DiD) can quickly identify and connect people and data. By linking your decentralized identity to your motor infotainment system, you will be able to pay the parking fees in any cooperating location, or pay insurance to any cooperating provider, using the same personalized DiD and the associated one-click log-in. Furthermore, you will be able to add your in-car and mobility service preferences to your profile, and transfer these preferences across any car that you're driving. There's no need to reconfigure the system every time you drive a new vehicle.
Automotive Industries: How will in-vehicle payments transform the driving experience for individuals?
Jun: The advent of in-vehicle payment solutions will revolutionize how we see our cars. Rather than serving the single purpose of getting us from A to B, our cars will become smart devices, capable of many of the things our mobile phones are currently doing. In the same way that individuals can buy anything from their phones with the click of a button, in-vehicle payment services will enable automobile drivers to purchase from their car dashboards, without the need for smartphones or other devices. Drivers will benefit from a contactless experience, allowing them to pay for parking, insurance, toll fees, and more from the comfort of their cars, all with the assistance of a decentralized identity solution.
Automotive Industries: Why are tokenized payments the most private and secure way for drivers to complete in-vehicle payments?
Jun: As we have seen in recent years, data breaches are rampant within Web2. User IDs, passwords, and financial information are notoriously vulnerable to theft and hacking. In the third quarter of 2022 alone, 108.9 million accounts across the globe fell victim to these hacks. Tokenized payments are a great way of combating these dangers, as user information does not need to be revealed in any way throughout the payment process. The user's sensitive data is exchanged via a unique and irreplicable identification symbol i.e the token. To that end, drivers don't need to worry about the visibility of their financial details to prying eyes. When being transferred from their car across to the payment system, driver information is hidden within the token and thus, they can maintain the utmost security and privacy with every purchase.
Automotive Industries: In what ways will decentralized identity solutions (DIDs) and decentralized finance solutions help drive Web3 forward?
Jun: Decentralized identity solutions empower users to take back control of their data and protect their digital identities on the web, preventing any breaches of privacy by third-party organizations and profit-focused corporate giants similar to what we have witnessed in the last year. Decentralized digital identity applications give users full control over their personal information online, whether that be private data, passwords, or account information. It grants them the power to choose who they share their data with, and for what purpose, solving many of the privacy problems that we have faced in Web2 and ushering in a new paradigm of self-sovereignty going forward into the Web3 era. Individuals are starting to become more aware of the value of their data, and the inherent need to protect it, and DIDs demonstrate to individuals how Web3 tools can resolve existing privacy issues.
In a similar light, decentralized finance solutions will bring increased transparency and security into the space, while reducing inefficiencies and solving pain points. The removal of centralized intermediaries from the financial process, particularly within the crypto space, is something that those of us involved with DeFi believe to be the most important factor in driving Web3 in the long term. DeFi solutions will provide Web3 users with a secure and inviolable place to store their crypto assets, where the liquidity value of their assets remains unchanged despite any prevailing market conditions. As such, this will bring much-needed trust and security back into the Web3 space and reassure users of the practicality of the Web3 vision.