The motor industry will be able to take stock of developments and trends during 2023 and projections for the future at Automechanika Shanghai 2023.
Staged from 29 November to 2 December, it will focus on Innovation4Mobility to highlight rapidly evolving areas of the supply chain.
Automotive Industries (AI) asked Fiona Chiew, the General Manager of the organizers Messe Frankfurt, to mention some of the highlights of Automechanika Shanghai 2023.

Chiew: On behalf of the organizers, we are very excited about returning to Shanghai for the 18th edition.
With so much change unraveling across the industry, it is very important that players from around the world have an end-of-year platform to evaluate performance in 2023 and talk openly about future plans.
In fact, it will be the first time that many global buyers and suppliers can meet face-to-face in the city since 2019.
Therefore, it is very encouraging to see an influx of inquiries from industry players about various forms of participation.
This year, we are delighted to host an expected 4,800 exhibitors. We are almost at capacity with 90% of the floor space reserved by companies from 34 countries and regions like Australia, Brazil, Belgium, Canada, China, France, Germany, Hong Kong, Italy, Japan, Malaysia, Singapore, South Africa, South Korea, Taiwan, Türkiye, the UK, and the US.
I am looking forward to seeing leading brands like AUTOBACS, Bilstein, BorgWarner, Bosch, Brembo, Corghi, Doublestar, EAE, FAWER, Haige, Jekun Auto, Launch, Leoch, Liqui Moly, Mahle, MAXIMA, QUANXING, SATA, Sogreat, SPARKTRONIC, Tech, TMD Friction, Tuopu, VIE, Wanxiang, YAKIMA, ZF, ZTE, and Zynp Group at the fairground.
AI: Please tell us a bit more about Innovation4Mobiity.
Chiew: The concept Innovation4Mobility originates from the Automechanika brand's flagship show in Frankfurt. We are drawing upon the direction but repackaging it in a way that speaks for the Chinese market.
For instance, through our Innovation4Mobility Showcase, the Future Mobility Area will give prominence to rising business opportunities developing from new energy vehicles and connectivity.
The Customizing x Tech Area will also spotlight trends in the customizing market with a collection of customised cars, car wrapping, accessories, infotainment, lighting, and products for driving activities like car camping.
In addition, the revamped Innovation4Mobility Mainstage and Green Repair Area also return to complete the Showcase. Integrated facilities for product displays, start-ups, forums and networking across the spaces aim to help foster meaningful business exchanges between exhibitors and prospective buyers.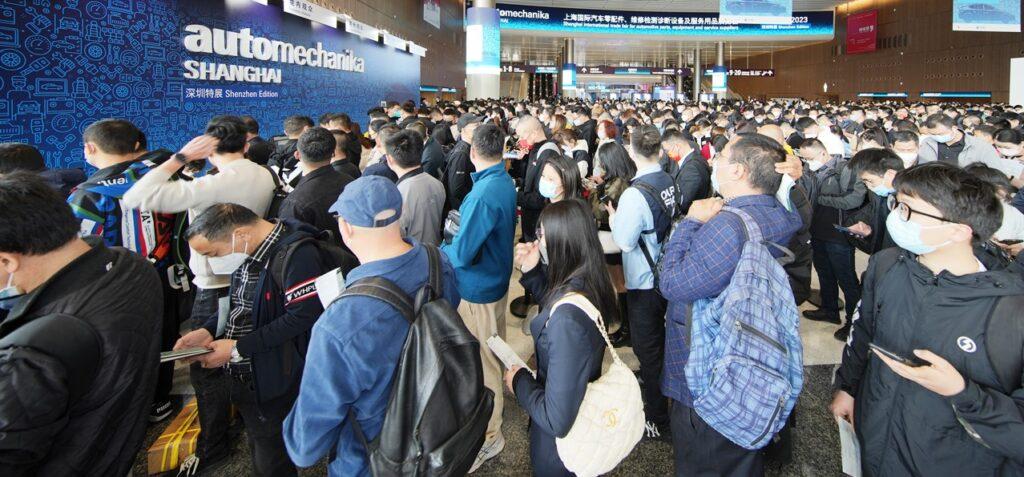 The aim is to create a dialogue about the overall transformation to encourage collaboration between different parts of the ecosystem by amplifying certain hotspots in the supply chain.
AI: Where do you see opportunities in the Chinese market for Tier 1 suppliers?
Chiew: From China's hyper-size d consumer pool, the demand for car ownership remains strong, with a forecast of 27.6 million new vehicle sales in 2023, up 3% from the previous year.
The Government is also placing a lot of emphasis on incentivizing car purchases, especially new energy vehicles. Of the total sales calculation, new energy vehicles should exceed the nine million mark, a growth of 35%.
In addition, exports in the sector expect to increase by approximately 17% to 800,000 units.
Therefore, the general demand, advancements in technology, and introduction of new energy vehicles have led to a new set of deliverables that carmakers and OEMs look for, particularly when it comes to innovation in products and processes. This, in turn, creates both challenges and opportunities for Tier 1 suppliers.
In this regard, our role is to offer a meeting point for business exchange, marketing, trade and education. Exhibitors can leverage our platform to present new products, cutting-edge technologies, and future mobility solutions to a vast audience.
In the last edition, a quarter of our visitors were either manufacturers or carmakers. Other attendees included service providers, distributors, research institutes and more.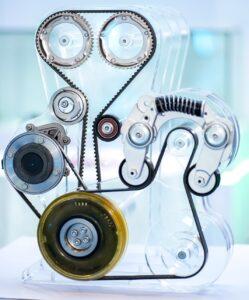 In addition, we will explore prospects in China during the International Automotive Industry Conference 2023 by Automechanika Shanghai.
The event is set to cover trends and market updates across the whole supply chain, zeroing in on how technology and innovation are critical for gaining a competitive edge.
AI: Why is the Chinese market important to companies not based in China?
Chiew: China continues to be an attractive market for overseas ventures. Last year, the country drew a record-breaking US$ 189.1 billion of FDI, including EUR 6.2 billion direct European investment in the automotive sector.
While it is a manufacturing powerhouse, the nation is also taking an early lead in developing next-generation technologies and gaining shares in the new energy vehicle market.
These advancements in the automotive industry are vital to achieving wider environmental targets like carbon peaking and neutrality, which countries around the world are all striving to accomplish.
Therefore, it is essential that the global automotive ecosystem works together and fully embraces the transformation by learning from one another and collaborating with wider industries.
This is where China can contribute greatly, given its position.
In terms of last year's new energy vehicle development, the country produced an impressive 7.06 million units and sold another 6.89 million. It was also a strong exporter to over
70 countries and regions, with national brands shipping 679,000 units to the likes of Germany, India, Japan, the Netherlands, Norway, Sweden and Thailand.
In this sense, our global network has expressed a great interest in understanding the opportunities arising from China's new energy vehicle sector.
Our themes and integrated activity areas will allow participants to visualize tomorrow's landscape and examine how China embraces change.
Likewise, our array of fringe events aims to reinforce this future outlook with industry-wide insights into where the market is heading in view of connectivity, sustainability and environmental protection.
AI: What advice do you have for exhibitors and attendees from outside China to ensure a fruitful visit?
Chiew: Planning your trade fair experience is critical for gaining the best results. I recommend starting your preparations early.
We have several channels available for exhibitors to increase their overall presence at the show.
I suggest participating in our Innovation4Mobility Showcase and fringe events.
The conferences and seminars are bilingual, so it is an excellent opportunity to become a speaker or sponsor and share information about trends and market solutions, extending brand visibility beyond the booth.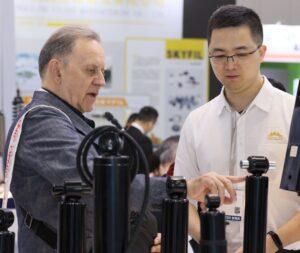 Companies can also utilize the show's online and digital resources and connections with our trusted trade and mass media partners to engage with a broader audience.
We also make your networking at Automechanika Shanghai easy and efficient! I highly encourage both buyers and suppliers to sign up for Match Up (business matching program).
Once you register, a dedicated team is at your service and will help arrange onsite meetings based on your provided information.
In addition, we also recommend that buyers join our dedicated Buyers Group Program, Premium Buyers Club or Auto Tech Club for exclusive onsite benefits.
In addition, we are arranging a number of factory visits to car manufacturers and industrial automotive parks in the lead-up to the show.
Participants can better understand the unique advantages each manufacturing hub in China brings to the supply chain and generate a better picture of where the industry is heading.
During these activities, manufacturers will share insights on new energy vehicle development and solutions for autonomous driving, creating more opportunities to share knowledge about trends that heavily influence automotive transformation.