It has become clear that the switch to electric mobility is not simply a case of swapping out the internal combustion engine for an electric motor and power pack.
A whole new science is evolving around the materials needed to meet the needs of vehicle assemblers and the expectations of their customers.
Automotive Industries (AI) asked Sam Stavinoha, Market Manager for Automotive at Dow Polyurethanes, what developments in foam manufacturing for the automotive industry were showcased at the 2023 Foam Expo North America.
Stavinoha: What we strive to do is align our material science expertise, or know-how, to designing the right molecule for the right applications to address the needs of the market. What we are seeing with the evolution of electric vehicles is the transformation of the battery space.
Solutions for battery applications that we showcased include our VORATRON™ gap filler, potting foam and thermal conductive adhesive series; SPECTRIM™ polyurethane systems; and BETAFOAM™ acoustic foam systems. The need for new acoustic solutions is being driven by electrification as there are changes to the noise paths.
We have solutions in the flooring space, in the tire space to address the changes in the acoustics profile of the vehicle.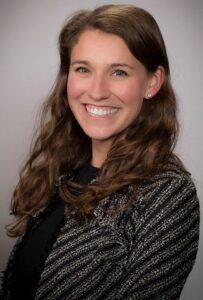 Sustainability is also big and top of mind for a lot of our customers.  So, we showcased our technologies featuring our circular feedstock options, as well as developments that we're doing with bio-based formulations. Once again, the target is meeting the needs that customers are telling us they have in this space.
AI: What areas of automotive manufacturing are you targeting with your polyurethane solutions?
Stavinoha: It is to meet the three main challenges brought about by electrification. We are helping to enable the transformation of the motor industry by addressing lightweighting, acoustics and sustainability.
These are the three pillars in which we are investing our research and development dollars in order to ensure we have the innovative solutions required by the industry in order to transform.
AI: Are you looking at using renewable content for solutions to reduce noise, vibration and harshness (NVH)?
Stavinoha: One of the themes that Dow promotes internally and externally is our commitment to reducing our carbon footprint and assisting our customers to achieve the same. So, in the acoustic space, we offer our circular feedstock mass balance option. This is available in other applications, such as battery and interior solutions as well.
By using circular feedstocks, Dow provides a range of solutions for products with 50-60% recycled content and an improved lifecycle analysis profile compared to fossil-based fuel.
Our SPECFLEX™ C Series use a mass-balance approach with recycled feedstocks to create circular polyurethane-based products for a wide array of automotive applications.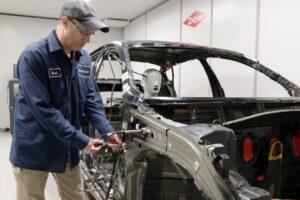 In this way we are using automotive waste products to create a closed loop and provide sustainable offerings for our automotive polyurethane systems.
AI: What flexible PU foam systems for vehicle interiors do you offer and are they available from circular feedstock?
Stavinoha: One of the items that we showcased was our thin wall foam. Dow's low-VOC thin-wall foam technology has been tested against both benchmarks and found to be up to 60% lower in overall VOC emissions and well under established aldehyde targets.
We also have bio-based formulation development in this space.
AI: How would your VORATRON™ Polyurethane Systems optimize EV Battery performance?
Stavinoha: Battery applications are driving a lot of the innovation for thermal management, lightweighting, performance optimization and assembly. There are two main approaches to assembly, one having the battery integrated into the chassis and the other as a pack.
With our broad breadth of solutions from adhesives to gap fillers to pottants to structural reinforcement or encapsulants, we can align our development and our solutions to the needs of the customers and what is prevalent at that time. So, really, it's addressing thermal management, the cost, the performance, and lightweighting with these solutions.
AI: Please expand on how you are recycling waste.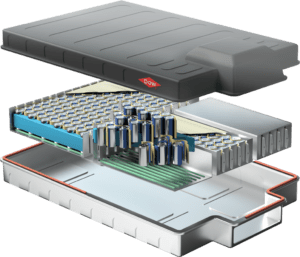 Stavinoha: The value proposition that we bring with our capabilities for back integration is to recycle the automotive waste from the production sequence back into our feedstock.
The circular waste is used to produce materials that are exact performance, or really similar, to the original product that we supply. Through this we are decreasing our reliance on fossil fuels and reducing carbon emissions to create a sustainable product.
AI: What is next for Dow polyurethanes?
Stavinoha: Everything and anything, actually. What we pride ourselves on is how we align our expertise to design the right molecule for the next generation of products.
We listen closely to what our customers' needs are, in order to understand where the market is going and the evolution of the motor car. Then we use our expertise to address that need.
One of the things that we always try to highlight in Dow is our material science expertise. Dow's MobilityScience™ leverages the breadth of our expertise across the different business units.
In addition to polyurethanes, we have a variety of chemistries, and a variety of capabilities that we leverage and pull from to address the needs of the mobility sector, along with our capabilities in acoustics and electrification.