DRIVING NEW EFFICIENCIES IN MANUFACTURING LOGISTICS
BMW Group's annual car sales have doubled over the past 10 years to 2.5M vehicles. Multiple car models with an average of 100 different options mean that 99 percent of customer orders are uniquely different from each other. With tens of millions of parts flowing in from suppliers around the world every day, this volume influx creates an immense challenge for factory logistics. BMW Group has selected NVIDIA's new Isaac Robotics Platform to enhance its automotive factories.
Customer Orders: The Power of Choice
BMW Group produces 10,000 cars every day. It offers 40 car models with an average 100 different options per car—resulting in 2100 different possible configurations.
Factory Logistics: Raw Parts In, Parts Trays Out
BMW Group's logistics takes in 30M parts per day from 1,800 suppliers across 31 factories. 230,000 part numbers are organized into trays to produce 10,000 build-to-order cars every day.
Manufacturing: Just In Time, Just In Sequence
BMW Group's production line produces one car every 56 seconds. The line runs non-stop and can produce up to 10 different cars in any sequence, with parts arriving exactly when and where they're needed.
This video shows the sim-to-real process on NVIDIA AI platforms. BMW Group's Smart Transport Robot (STR) and SortBot use Isaac for multi-modal functions including motion planning, object detection, and pose estimation. The robots are shown in Isaac Sim on Omniverse delivering accurate physics and realism and also working in the real BMW factory.
BUILDING ROBOTS USING THE NVIDIA ISAAC PLATFORM
BMW Group implemented an end-to-end system based on NVIDIA technologies, with logistics robots developed using one software architecture, running on NVIDIA's open Isaac robotics software platform. Navigation robots transport material autonomously, while manipulation robots select and organize parts. NVIDIA technology was used to design, train, develop, simulate, and deploy the system.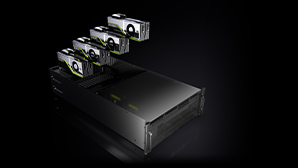 Designing the New System
NVIDIA® Quadro® GPUs using the RTX platform render ray-traced synthetic machine parts in a range of lighting and occlusion conditions to augment real data. This enhances training and accelerates development.
Training Deep Neural Networks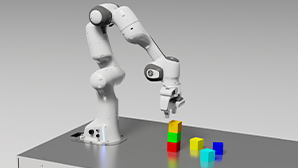 Developing AI Robot Applications
Built on NVIDIA's Isaac™ open robotics platform, the robots use numerous, powerful deep neural networks, addressing perception, segmentation, and pose estimation to perceive their environment, detect objects, navigate autonomously, and move objects.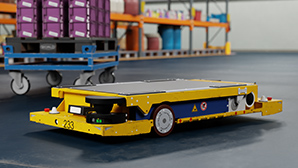 Deploying the Final System
A variety of NVIDIA Jetson AGX Xavier™ and EGX edge computers power BMW Group's new lineup of autonomous robots, which require multi-modal sensor fusion and edge AI.
NVIDIA ISAAC FOR SMARTER ROBOTS AND MORE EFFICIENT FACTORIES
BMW Group's end-to-end logistics system features five AI-enabled robots running on the NVIDIA Isaac™ open robotics platform. The robots now assist the current production process in order to assemble highly customized vehicles on the same production line.