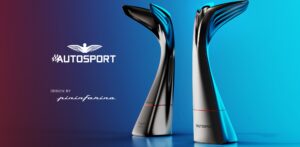 Motorsport Network, a company focused on the motorsport and automotive industries, has commissioned renowned international  design firm  Pininfarina to reimagine its Autosport Awards trophy.
The redesigned trophies will be presented at the 38th Autosports Awards event taking place at London's Grosvenor House on December 19, 2021.
"We are honored to have been invited to help modernize such a legendary motorsport symbol," commented Silvio Angori, Chief Executive Officer of Pininfarina.
"Having been rooted in the automotive industry for more than 90 years, our design concept for the new trophy speaks to a history and tradition that we are passionate about, with a futuristic form that reminds us to keep looking forward. Partnering with Motorsport Network on such a profound opportunity has been a privilege, and we hope to work with their exceptional team in the future."
Overseeing the concept refresh for the Awards' Winged Victory of Samothrace-inspired trophy, Paolo Trevisan, Vice President of Design for Pininfarina of America, and his team sought to enhance the timeless beauty of the trophy's winged silhouette.
Through a refinement of form that equally reflects the technical and sporting excellence of modern-day motorsport, and the sinuous use of lines that have become synonymous with Pininfarina's 91-year legacy, the team focused on repositioning the angel's wings to capture a powerful moment of action, reminiscent of an eagle in the position of attack.
The sleek new shape embraces the thrilling celebration of movement and speed that characterizes the racing experience, according to the designer.
"It has been an absolute pleasure and a privilege to work with Pininfarina on this exciting project," added James Allen, President of Motorsport Network.
"The Pininfarina team's modern and innovative approach fully respected the heritage of the Autosport Awards, while at the same time giving the trophy a design refresh that reflects the very high technical and sporting standards of modern-day motorsport.
"Most of the great drivers and team bosses of the last 40 years have had their hands on an Autosport Award at some point in their careers, and the prestige of the trophy is only enhanced by this latest design refresh by Pininfarina."
For almost 38 years, the Autosport Awards has hosted racing's biggest talents and most distinguished names, including Ayrton Senna, Lewis Hamilton, Sebastian Vettel, Fernando Alonso, Sir Stirling Moss, Mario Andretti, Emerson Fittipaldi, Richard Petty, Sir Jackie Stewart, Dale Earnhardt and Bernie Ecclestone, to name a few.