Changing demographics, values, societal events, and trends are altering traditional definitions, reflecting society's general shift of values to experiences over possessions. Experiences have become more important than ever and can be observed in the increased value of experiences over possessions.
To understand this transformation, Yanfeng's Global User Research team conducted in-depth interviews to understand different luxurious experiences from users in Germany, England, Spain, China, and the United States. After analyzing more than 200 detailed descriptions of luxury experiences from different contexts, five universally critical factors emerged: service, simplicity, personalization, comfort, and control.
The findings concluded that each of the five aspects need to be present for an experience to be luxurious and that each aspect is dynamic, being fine-tuned and adjusted to be amplified or reduced to maintain the luxury experience.
What the user experiences and expects from each aspect changes as the context of the experience changes.
With their new luxury concept car eXperience in Motion 2023 (XiM23), Yanfeng demonstrates how traditionally luxurious features can be elevated with technology integrations, becoming infinitely flexible and intelligently orchestrated to address the five aspects of luxury, meeting users' wants, needs, and preferences.
Automotive Industries (AI) asked Tim Shih, Vice President Design and User Experience of Yanfeng Technology, how these aspects of luxury influenced the design of the interior of the XiM23.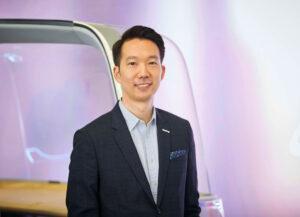 Shih: Weaving together traditional, premium features with the latest innovations and technologies will craft an in-vehicle experience that is greater than the sum of its parts. We also believe that the shift towards experience-focused luxury will impact the interior more than any other aspect of the car.
AI: What is the main takeaway from the study?
Shih: In addition to the five luxury aspects of simplicity, service, personalization, comfort and control, none of our interviewees directly stated "I want traditional luxury" or "I prefer digital luxury," they were not concerned with what technology was used to create their luxury experiences. Instead, they said "I want these five aspects delivered in the way that I prefer, throughout my journey."
This is how they defined luxury and this became our guiding concept for XiM23.
AI: How have these insights influenced the design of the XiM23?
Shih: In developing the design of XiM23, we realized that digital technology is not one of the bookends for defining future luxury, but rather a tool to create even more personalized luxury experiences. Whether through displays, lighting, or other features, digital technology enables an even more personaliz
ed in-car experience. The goal for the team was not to create a 'perfect balance' of traditional and digital luxury that remains static, but rather to create a smart cabin that has the flexibility to constantly deliver a luxury experience, even as the users' needs or preferences change throughout their journey.
AI: Please tell us a bit more about the modes of luxury.
Shih: In the car's initial 'Calm Mode,' only essential driver information is displayed. Other controls are managed by the car in the background, or via voice control by the occupants. In this mode, displays in the instrument panel and console are kept to a minimum to reduce cognitive load and driver distraction. When combined with simple lighting in the cabin, this creates a calm and soothing environment for all occupants.
When users desire to transition from the serene Calm Mode to the more interactive experience of Rich Mode, the power is in their hands via the multi-controller, a 'phygital' innovation combining a physical dial with gestural controls and interactive smart surfaces.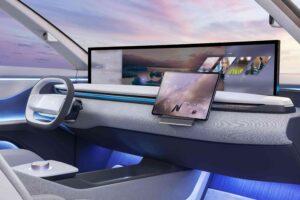 In 'Rich Mode', the interior begins to change dramatically. The ambient lighting tones of the interior shift and brighten and the instrument panel display rises from 50mm to 100mm, revealing additional features and offerings for occupants to select.
The two floor console displays extend fully, accessible for all occupants in the front and rear of the cabin, providing additional options for service, personalization, and comfort.
In both the Calm and Rich experience modes, the vehicle defaults to a manual driving scenario with level two assisted driving features such as blind spot monitoring, hands-off detection, and forward collision warning augmented with interior lighting.
When users are ready for a level four autonomous experience it is as simple as clicking the steering wheel's illuminated 'Autodrive' button. With safety-critical tasks handled by autonomous driving, the cabin's multi-sensory experiences can become even more immersive.
Lighting is enhanced with overhead illumination and projections, while all four seats recline. In the rear, passengers enjoy a deep, zero-gravity seat position plus massage with Yanfeng's Hover Seat. A theater-like ambiance brings all eyes to the front of the cabin, where the pillar-to-pillar display fully extends to 200 mm for users to enjoy music, movies, or other content tailored to their journey.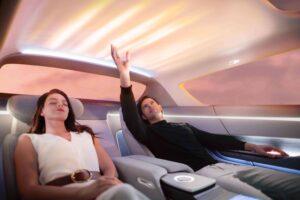 AI: When will the technologies of the XiM23 be commercially available?
Shih: Many technologies in XiM23 – such as smart interior surfaces, lighting integrations, and moving displays – have already been put into production by Yanfeng for our global customers.
In a concept car, however, we can push these technologies a little further, experiment a little more, and also exchange with our customers about what needs they have. This helps us to develop our current and future products in alignment with market demands and focus on the technologies with the greatest interest and potential.
AI: How can interested parties find out more about the XiM23 features?
Shih: Obviously, experiencing XiM23 is the best way to understand its features. It will be on display at our European headquarters in Neuss, Germany through Summer 2023. We will also be visiting customers with the concept car to have deeper exchanges with them. In addition, Yanfeng's own social media feeds and company website also have information on XiM23 for those who want to find out more details.
You can find out more about the concept car by clicking here.