As OEMs take advantage of the rollout of 5G across global networks consumers will benefit from the convergence of systems which will create constant communication between the car and its surroundings – changing how we approach infotainment, road safety and driving as a whole.
Enhancements will include the redesign of in-vehicle experiences with leading intelligent and infotainment capabilities, to support for richer cloud services, content and applications, as well as traffic efficiency and road safety. The ultimate objective is to enjoy all these features while the vehicle drives itself.
Automotive Industries (AI) asked Enrico Salvatori, Senior Vice President and President, Qualcomm EMEA, how close we are to a having autonomous vehicles on the road.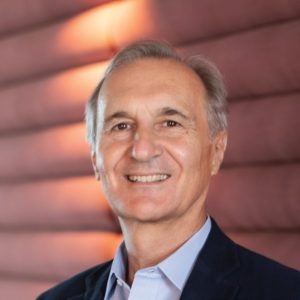 Salvatori: Modern cars are now deployed with advanced driver assist solutions (ADAS) with a wide scale of feature-sets and complexity.
They can be broken down into three sets of features:
1. Active Safety – Designed to meet minimum safety requirements from regulatory bodies. Basic features such as lane departure warning and automatic emergency braking, to assist the human driver. Typically maps to SAE Level 1 & SAE Level 2 systems.
2. Convenience – Designed to provide enhanced safety and more convenience features to the driver. Assisted automated driving features such as driver monitoring, highway auto-pilot and self-parking, to offer convenience through limited self-driving (e.g., Tesla Autopilot). Typically maps to SAE Level 2+ & SAE Level 3 systems.
3. Self-Driving – For Robo-taxis and driverless vehicles, autonomous driving features that perform all safety-critical driving functions and monitor roadway conditions. Typically maps to SAE Level 4 & SAE Level 5 systems. The transportation industry is actively learning from the data that ADAS systems generate and is combining these new ways of "seeing" the world with classic compute vision processing.
Artificial intelligence (AI) is the underlying tool to enable capabilities like in-car virtual assistance, natural voice control, language understanding and adaptive human machine interfaces to make these experiences happen.
The highest AI requirements relate to the ultimate goal of reaching autonomy levels L4 and L5. The new Qualcomm® Snapdragon Ride™ Platform aims to address the complexity of autonomous driving and ADAS by leveraging its high-performance, power-efficient hardware, industry-leading AI technologies and pioneering autonomous driving stack to deliver a comprehensive, cost and energy efficient systems solution.
The combination of Snapdragon Ride SoCs, accelerator and autonomous stack offers automakers a scalable solution designed to support three industry segments of autonomous systems, namely L1/L2 Active Safety ADAS for vehicles enabled with automatic emergency braking, traffic sign recognition and lane keeping assist functions; L2+ Convenience ADAS for vehicles featuring Automated Highway Driving, Self-Parking and Urban Driving in Stop-and-Go traffic; and to scale up to L4/L5 Fully Autonomous Driving for autonomous urban driving, robotaxis and robo-logistics.
AI: What is the importance of cellular vehicleto-everything (C-V2X)?
Salvatori: C-V2X technologies are expected to be an important technology for vehicles to communicate with each other and everything around them – in order to support safer, more autonomous vehicles of the future. Thanks to the acceptance of common standards, a string of successful trials, and initial commercialization, C-V2X shows growing promise for greater road safety and mobility and is important for the assistance of non-line-of-sight sensors for autonomous vehicles.
• C-V2X improves range and reliability for enhanced safety services and brings new capabilities for autonomous driving
• C-V2X offers modern technology with superior radio performance
• C-V2X is designed for low-latency direct communications on harmonized ITS 5.9 GHz spectrum without relying on network assistance
• C-V2X is the only V2X technology with a clear, forwardcompatible evolution path towards 5G. New warning systems based on data exchanges between vehicles can be developed. While classic wheel sensors can detect slippery roads, front-facing cameras can "see" obstacles well in advance and can inform surrounding vehicles, and may even activate roadside assistance units.
• Vehicle-to-vehicle (V2V): Vehicles use sidelink to apprise one another of their presence. For example, approaching from a blind spot or encroaching on lane position.
• Vehicle-to-infrastructure (V2I): Traffic lights, speed signs and roadside units (RSUs) use sidelink to send the vehicle local information needed for safe navigation
• Vehicle-to-pedestrian (V2P): A sidelink alert informs the driver of the presence of a cyclist approaching from the right • Vehicle-to-network (V2N): Through uplink and downlink connectivity, the vehicle receives cloud-based information about construction, weather conditions and road hazards, along with indications for re-routing. Acting as support for existing telematics units, C-V2X works on the same chipset as sidelink communications. It is flexible and adaptable as it uses the same antennas, processors and other hardware items which are used to create an effective and safe intercommunication system. This allows the autonomous vehicle to exercise cooperative perception and manoeuvring while accumulating information from their surroundings and sharing it across the vehicle network.
AI: What opportunities do car-to-cloud deployments give automotive manufacturers?
Salvatori: Car-to-cloud deployments can open a new revenue stream for automakers, enabling them to leverage vehicle usage data to implement subscription and pay-as-you-go services. Having access to real-time data enables auto manufacturers to update road conditions (accidents, construction, traffic) as they occur – creating mass efficiencies for their customers on the road. Car-to-cloud deployments also create a direct channel between the manufacturer and the vehicle owner – opening up a channel to seamlessly promote new features and upgrades. Using internal data from integrated sensors – like charge and fuel sensors – in conjunction with external data from surroundings, manufacturers can offer vehicle-related services. This could be especially valuable to commercial drivers or company fleets as it allows them to track where their drivers are going, share updates on maintenance issues and continually trace traffic conditions. Having oversight into all of these factors can help fleet managers lower fuel and maintenance costs, create efficiencies for drivers and ultimately ensure all telematics systems are up to date.
The benefits of the Qualcomm Car-to-Cloud Service:
• Future-proof design for fast deployment timeframes: implement features now with the ability to upgrade throughout the lifetime of the vehicle; activate only when needed; opportunity to sell on-demand services to customers
• Cost-efficient operation: cost-efficient connectivity services and over-the-air updates; recall/warranty management; pay as you use for hardware, software and services
• Actionable insights: opportunity to receive insights about application and feature usage, make informed decisions based on monitoring hardware and feature usage
• New services and revenue opportunities: new connected services; on-demand services for car sharing and Car as a Service (CaaS); and upsell opportunities after lease return
• Personalized user experiences for passengers: design unique experiences based on insights and analytics; segmented bundled content, app and services creating new revenue streams
• Integrated connectivity: global operators for bootstrap connectivity; regulation compliance and integration with local operators; and differentiate traffic for sponsored connectivity offerings
• Secure and attested communication: anchored by secured keys in Qualcomm Technologies' chipset hardware and secured car-to-cloud server infrastructure AI will be at the center of these new use cases and rich experiences. For example: In-car virtual assistant from Amazon or Google will use AI to understand what the user is saying and customize car settings, content and recommendations to user preferences and habits. OEMs can develop their own virtual assistants that are very specific to the context and the environment of the vehicle for safety and other features.
AI will also enable surround view monitoring to detect obstacles like pedestrians and alert the driver.
AI: How important is AI in the development of autonomous vehicles?
Salvatori: At the intersection of this mobility revolution lies 5G and AI technologies, which represent the underlying fabric for tomorrow's more connected, intelligent transportation system. If the engine is the heart of the vehicle, then AI is its brain, processing and analysing the surrounding environment.
AI is the underlying tool to enable capabilities like in-car virtual assistance, natural voice control, language understanding and adaptive human machine interfaces to make these experiences happen. The highest AI requirements relate to the ultimate goal of reaching autonomy levels L4 and L5.
AI: How will consumers use AI in the cars of the future? Salvatori: We use many already today, here are some example applications of ADAS:
• Natural voice recognition: understanding a driver's verbal commands in real time
• Collision avoidance: Detecting objects in the road, alerting the driver or automatically braking
• Lane departure warning: Providing feedback via the steering wheel or display messages when the vehicle moves from one lane to another
• Driver monitoring: Track concentration, drowsiness, distraction and attentiveness
• Interference: Simultaneously detect street signs, road hazards, construction warnings and oncoming vehicles while having the ability to amend the journey if necessary
• Adaptive cruise control: Maintaining a safe distance at high speeds
• Highway co-pilot: Giving the vehicle control to following traffic, pass slow-moving vehicles and return to the lane
AI: What's next for Qualcomm automotive?
Salvatori: We are redefining the next generation of vehicles with our expertise and industry-leading Qualcomm® Snapdragon™ Automotive Compute Solutions. We are well-positioned to redesign in-vehicle experiences with leading intelligent and infotainment capabilities.
Our Qualcomm Automotive wireless solutions are designed to support multigigabit and 5G speeds to support richer cloud services, content and applications, as well as traffic efficiency and road safety.
Our technology solutions are focused across 4 key areas:
1. Telematics / C-V2X.
2. Infotainment.
3. ADAS.
4. Qualcomm car-to-cloud platform management